Reported by Jacob McMillan
The Junior Varsity Lady Chargers lasted six innings before the mercy rule was invoked and the Mililani Trojans walked off with the OIA crown in Saturday's championship game.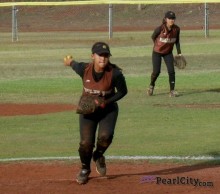 Photos by Jacob McMillan
(Left photo) Mililani WP Candice Matsuda (Right photo) PC pitcher Cydny Rivera
Playing on their home field, Mililani ran out to an early 9-0 lead after three innings. But Pearl City responded with a fifth-inning rally as Kayla Leleo, Maluhia Pelletier, and Kristen Tanoura all got on base with consecutive line drives to right field. Although Ariela Bali's subsequent single resulted in Leleo being thrown out while sliding into home, it was followed by Taylor Kawakami's walk, giving the Lady Chargers their first run of the game.
With their lead cut down to five runs, Mililani's batters attacked harder as Pearl City struggled with stolen bases and errors. They answered Pearl City's four runs with four of their own to bring the lead back up to 13-4.
Pitching made all the biggest difference in the outcome, according to Chargers head coach Eldon Bolahao. "I think we had bad calling on pitching," he said. "But you can't make excuses."
"Mililani's a good team, good coaching staff," added Bolahao. "Not taking away nothing from them."
The coach also has high expectations for the JV team next year, as many of the players will be returning. "Nobody expected us to be here," he said. "Hopefully next year we can be here again.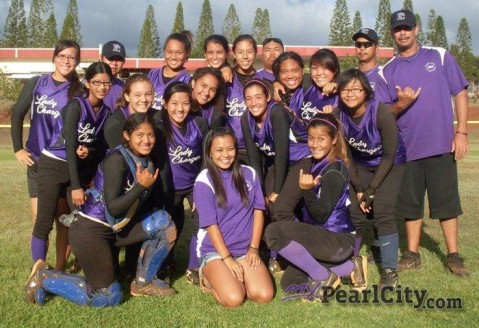 Photo by Jacob McMillan
Congratulations to the OIA Red Division Runner-up, Pearl City Lady Chargers!