Momilani Elementary School 4th graders took their message of going green on Wednesday as they performed to "The Environmental Show" before a packed house at the school cafeteria.
Students, faculty, family and friends enjoyed two performances by the 4th graders that sent a message for the need to take care of our environment by cutting down on pollution, saving water, using less energy and avoiding our landfills.
Play Description:

(Taken from The Environmental Show program)

Written by Ron Fink and John Heath Directed by Bill Ogilvie
It's the night before the band's last – chance gig – and their old tour bus has broken down. As they set up a sloppy camp, strange creatures emerge from the woods. Did we say strange? Enchanted is more like it: plastic bottles, banana skins, light bulbs, and even a rusted-SUV come to life, and they can sing! They've got some great advice for the rockers on how to change their behavior, save the band, and help help the environment.

Director Bill Ogilvie returned to Momilani Elementary School to lend his skills and to prepare the 4th grade actors for their performance. Once again, Momilani Elementary School students presented a flawless performance behind Mr. Ogilvie's guidance and expertise.
The students performed to the following song list:

1. "The Band Went Green" – Whole Class
2. "You Threw Me Away" – Plastic Water Bottles
3. "Everyone Wins" – Banana Skins
4. "Plant a Salad" – French Fries, Chicken Nuggets, and Styrofoam Containers
5. "eBay" – Bicycles
6. "Rejection" – Light Bulbs, Air Conditioners, and Refrigerators
7. "Save a Little Bit for Me" – Fish
8. "Four Green R's" – Green R's
9. "Leave Me in the Driveway" – SUV's
10. "The Band Went Green" (reprise) – Whole Class
The success of Wednesday's performance of The Environmental Show by the Momilani Elementary School 4th graders received a lot of support. Thanks to the following individuals who played an integral role in supporting the students:
Mrs. Higa – Principal
Mr. Ogilvie – Director
Performance Banner – Rick and Tricia Gudino
Program Layout – Bobby Asato
Video Taping – Damien Boncales
Parent Directors – Andrea Iwamoto & Rhonda Sagara
Supervision – Elsie Chun & Karyn Ku
Stage Set-Up – James Poyo
Program Copies – Shari Evans
Set-Up/Breakdown

Damien Boncales
Mohala Boncales
Todd Duyvejonck
Ken Evans
Tammy Furuta
Lance Hayashi
Richard Hiroshige
Jann Masaki
Miles Matsuda
Tammy Matsunaga
Edean Nomura
Warren Shoda
Elmer Tabios
Scott Yoshihara
Custodians:

Rona Kessner
Eddie Antonio
A special mahalo to the Grade Four parents for their help!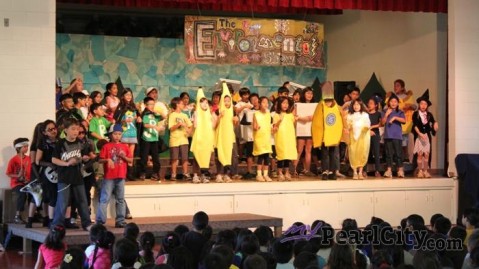 Photo by Barry Villamil / barry@mypearlcity.com