Eiichi and Robyn Jumawan have taken their PearlSide Boxing operation to new levels in 2010 with an increased commitment to improving the skills, health and well being of their club membership.
They have also reached out to support the Pearl City community with volunteer projects such as the Momilani Clean-up.
"We take part in cleaning our community. We gather all our people together, rake & bag leaves, trash, and help with Pearl City Community Foundation projects," commented PearlSide Boxing management. "We want to instill in every member the value of being a good citizen and in serving our community. We want people to say PearlSide Boxing, they are a great organization!"
On December 11, 2010, the Jumawan's will present the PearlSide Boxing Amateur Boxing Show to be held at the Momilani Community Center in Pearl City.
"It's a great venue and Executive Director, Breene Harimoto has been great to work with here at the Momilani Community Center," said Robyn Jumawan.
Proceeds from December's Boxing Show help support PearlSide Boxing's community scholarship program.
Amateur boxers from Hawaii will compete in several weight classes with awards given out in the following categories:
Outstanding Bout, Sportsmanship, Outstanding Junior Bout, Outstanding Boxer, Outstanding Junior Boxer.
Seventeen year old Mark Antalan is member of the PearlSide Boxing Club and is trained by Coach Eiichi. In 2009 he traveled to Denver Colorado to compete in the Junior Olympic Nationals. Antalan is looking forward to the Pearlside Boxing Show coming up in December as an opportunity to improve his skills in competition.
"For my weight class I'm too short so coach is teaching me how to fight the inside, to get in and take away the opponents leverage," said PearlSide Heavyweight boxer, Mark Antalan. " With coach Jumawan's help I made it to the Nationals."
The Jumawan's have a wealth of experience and are actively involved in the amateur boxing community. Robyn (Mrs. Coach) is a USA Boxing Certified Boxing Coach as well as a Certified Boxing Judge since 2007. She is the Chief Judge at all PearlSide Boxing Matches and assists in officiating & administration at all Hawaii Association events.
Congratulations to Coach Robyn who has recently been selected as Vice President for Amateur Boxing of Hawaii. She will serve a four year term.

Head Coach Eiichi Jumawan runs Fitness Boxing Classes, Individual & Small Group Personal Training sessions, and coaches PearlSide Boxing Team in local and National Competition. He is also the "Senior Clinician" for the State of Hawaii for conducting Officials and Coaches Clinics for National Certification.
Congratulations to Coach Eiichi who has recently been selected to serve on the USA Junior Olympic Committee for a four year term.
As an amateur boxer, Coach Eiichi is a two time National Champion, a member of the AAU All American Boxing Team, 1976 U.S.A. Olympic Team Runner-Up, National Golden Gloves Silver Medalist, Six Time Hawaii State Amateur Boxing Champion, and Five Time Hawaii Golden Gloves Champion and recorded a Professional Boxing Record of 8-0.
For more information about the PearlSide Boxing Amateur Boxing Show as well as sponsorship opportunites contact Coach Eiichi Jumawan at:
Tel: 808-256-2885
Email: coach-jumawan@hawaii.rr.com
Web site: www.pearlsideboxing.org
Check out the PearlSide Boxing Promotional Video below:

http://www.youtube.com/watch?v=GTPqdDNvgj4

PearlSide Boxing Class Schedule:
Tuesdays & Thursdays
6:00 – 7:00pm Fitness Boxing Class
7:15 – 8:30pm Novice & Advanced Work-outs
Saturdays
11:30am – 12:30pm Fitness Boxing Club
Momilani Community Center is located at: 715 Hoomoana Street, Pearl City, Hawaii 96782
Photo provided by PearlSide Boxing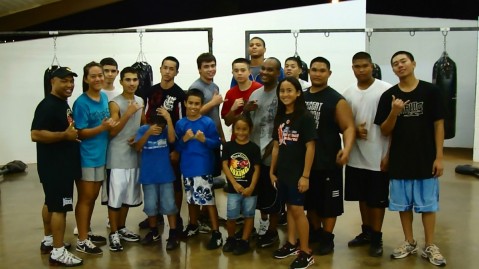 Photo by Barry Villamil | barry@mypearlcity.com