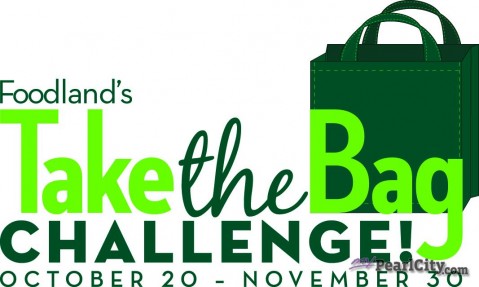 Foodland Super Market stores have embarked on a campaign to reduce the usage of plastic and paper bags with environmentally friendly Foodland reusable shopping bags. The company's goal is to reduce its usage of plastic bags by 25 million bags at all store locations, company wide in the next year.
Foodland's Take the Bag Challenge campaign runs from October 20, 2010 through November 30, 2010 at Foodland, Sack N Save and Foodland Farms stores.
The Take the Bag Challenge commitment will also help customers prepare for the Plastic Bag Ban that will go into effect on the islands of Maui and Kauai beginning January 11, 2011.
Incentives are being offered to customers during the campaign to assist in the transition from plastic and paper bags to the Foodland reusable shopping bags.
In addition, Foodland has special prices and offers on their reusable bags during the Take the Bag Challenge. For a $3.00 purchase, customers will receive 2 reusable bags which also include a $6.00 coupon. Customers will also have the option to use their Maka'i My Rewards certificate to receive 2 Bags Free.
MyPearlCity.com sat down recently with Sheryl Toda, Foodland Director of Corporate Communications to learn more about the Take the Bag Challenge and the company's efforts to help keep Hawaii green.
Q: Can you explain how the Take the Bag Challenge works for Foodland customers?
A: On October 20thwe started a campaign called Take the Bag Challenge in all of our stores statewide and how that works is we are asking every customer at check out to make a commitment to use reusable bags every time they shop.
Q: What is the structure of the customer commitment for the Take the Bag Challenge?
A: The cashier will give them a commitment card which they will sign and we encourage them to bring back that commitment card, which is actually a stamp card every time they shop with us so we can track their use of reusable bags.
Q: How about incentives to participate which includes free product giveaways?
A: After eight visits they can choose a free product. They can either receive a Poke Bowl for free or four bottles of Honey Tea and Kettle Chips. They also get the five cent credit for every reusable bag they use on every visit.
Q: Have you kept track of the amount of plastic bags that have been saved at the Pearl City Foodland since the start of the campaign on October 20th?
A: At the Pearl City store we have saved over 6486 plastic bags since October 20th.
Q: Has the new plastic bag ban on Maui and Kauai, which is scheduled to go into effect in the new year, stepped up Foodland's reusable bag campaign?
A: Part of the reason we wanted to start this campaign is we wanted to get our customers especially on Maui and Kauai, to get into the habit of using reusable bags because of the plastic bag ban going into effect on those two islands on January 11, 2011.
Q: So that means there will be no plastic bags in use on Maui and Kauai after January 11. 2011?
A: For those islands, customers will not be able to get a plastic bag. We will have to bag the groceries in paper bags and so that will make it difficult to carry without handles. It also costs more to recycle paper bags. We want customers to use reusable bags instead of plastic bags on Oahu and paper bags on Maui and Kauai.
Q: Are there plans that you know of, to follow Maui and Kauai with island wide plastic bag bans on Oahu and the Big Island?
A: I don't think anything has been confirmed or what the plans are for those islands. It's a change in habit for the customers to gain new habits in using the reusable bags. We estimate that an average family in Hawaii uses more than 700 plastic bags a year for grocery shopping. Compare that to the reusable bags and that's a lot of waste that we will help eliminate from our islands.
Q: What is the Foodland reusable bag capacity compared to a plastic bag?
A: The reusable bag can hold about three plastic bags worth of groceries and it's very strong and can last three years.
Q: You mentioned that the Pearl City Foodland location has saved 6486 plastic bags so far. How many plastic bags have been saved company wide to date?
A: Since the program started we've saved 193, 866 plastic bags. (as of 11/4/10). Our goal is to reduce our plastic bag usage by 25 million bags by next year.
Q: How about additional incentives offered to Foodland customers to make a commitment to participate in the "Take the Bag Challenge"?
A: We have great incentives. In addition to getting the five cents credit every time they bring in their own bag, we stamp their card as I mentioned. Also, when they're done redeeming their card, they can start a new one if it's before November 30. So when they turn in their card, when they redeem it for their free products, we enter them into a drawing for a reusable bag shopping spree up to a $1000. We will have one winner on every island. Also, a matching $1000 gift to a charity of their choice.
Q: Any plans to continue the program after November 30th?
A: After November 30th, we have another stamp card that was actually running before we created our Take the Bag Challenge and it was called "It's Good to be Green". To continue the great momentum and continue the good habits that customers have started, we will give them that Good to be Green stamp card. They will continue to stamp it and turn it in for a free product which is a Back to Nature bag of nuts. I believe it has an $8.00 retail value.
Q: Would you say that the key to the "Take the Bag Challenge" success is a friendly reminder to customers to bring their bags to the store?
A: We want them to continue to remember that the key is remembering to bring your bag into the store. At a lot of our parking lots we've put up signs that say, "Got Bags?" We have a lot of people who say they forgot their bag in the car, and their already in line, so they don't want to go to the car to get their bags. Some customers come to the check out and say they left their bags at home. We want them to remember to put it in their car and when they come to the grocery store to take it out of the car and bring it in the store or they can buy new ones. That's what I'm always doing. It's like I forget it at home and I have to buy a new one.
—————
How Foodland's Take the Bag Challenge works: (overview)
At checkout, cashiers will ask every customer to "Take the Bag Challenge" and commit to using reusable bags every time they shop.
Customers will sign a commitment card and receive a stamp card to track their use of reusable bags.
Customers receive a $.05 credit for every reusable bag used during their shopping visit.
After 8 visits (8 stamps), customers can turn in their stamp cards to receive a free product of their choice — (4 bottles Honest Tea & Kettle Chips OR Poke Bowl)
Customers will also be entered into a drawing to win one(1) of four (1) Reusable bag shopping sprees, up to $1,000, and a $1,000 matching gift to the charity of their choice.