Fitness and health instructor and Pearl City High School '99 graduate, Justin Yoshida has set upon a list of goals that he hopes will transform Pearl City into a healthy and physically fit community. Those goals include the following:
1. Get people exercising and eating better
2. Meet others with the same goal of being healthy
3. Give people a taste of excellent ADA endorse programs such as Insanity, Turbo Fire, P90X, and Shakeology
4. Bring the community closer together
5. Have lots of fun!
Justin Yoshida has incorporated his business and experience as an Independent Beachbody Coach into the Leeward Community Fit Club which is home based at the Momilani Community Center in Pearl City.
Growing up in Pearl City he knows his community well and feels fortunate for the opportunity to give back through his Leeward Community Fit Club operation.
"We actually started off in Waipahu, a real small group," said Yoshida. "We eventually got in contact with Breene Harimoto at the Momilani Community Center and he liked the idea and we've been here for about three months. We kept it low key at first just to try and test it out."
So far, the test is working well as more and more Pearl City residents have bought into Yoshida's workout and fitness philosophy with class sizes reaching as much as forty members during Monday evening workouts.
"At the Momilani Community Center we provide kind of like a fit club," Yoshida said. "Our whole purpose behind it is to get people kick started into fitness and nutrition. Often times it's hard to just start on your own. For a lot of people they join a gym and never go. We're trying to build it into the community where everybody is working out together, focusing on the same path."
Yoshida's commitment to the health and fitness of the Pearl City community includes a $1 fee per training session. "We just charge a dollar, just to cover the insurance. This is kind of our community service project to get people started," Yoshida said.
"Our community fitness group over at Momilani Community Center on Monday's featuring programs such as P90X, Insanity, etc. from the Beachbody line of workouts. We also provide help with nutrition and overall wellness, as this is a huge part of maintaining a healthy lifestyle!"
Being in shape and staying healthy makes Yoshida the Beachbody poster guy. But that wasn't always the case. "Professionally I'm an interior designer. When I went to college I gained a lot of weight. I ended up losing about forty to forty-five pounds on these programs so I kinda know how the whole process goes," commented Yoshida on his transformation to good health.
Yoshida also makes available the Beachbody product line and fitness program at the Momilani Community Center on Friday's during the Farmer's Open Market from 3-6pm.
Backed by a great team of volunteers from the Leeward Community Fit Club, Yoshida and his group can be found lending a hand in the Pearl City community for many charitable events throughout the year.
Justin Yoshida represents a long line of successful Pearl City High School alumni who strive to better the lives of Pearl City residents by giving back to their community.
The Leeward Community Fit Club conducts classes every Monday evening starting at 7:00pm at the Momilani Community Center.
To learn more about the Leeward Community Fit Club and the Beachbody Workout Program, contact Justin Yoshida at the information below: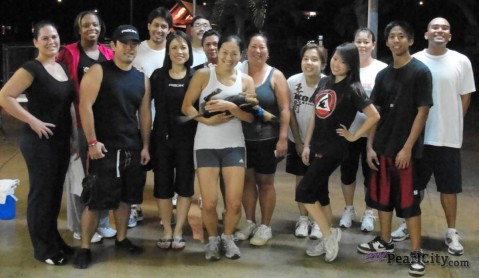 Photo by Barry Villamil | [email protected]
Leeward Community Fit Club members pictured at the Momilani Community Center in Pearl City.