A community group of volunteers led by Hawaii State Representative K. Mark Takai and the Honolulu Police Department will take to Kaahele Street in Aiea on Tuesday, November 23, 2010 to bring awareness to the problem of excessive speeding in the area.
Volunteers will conduct sign waving along Kaahele Street near the entrance to the Newtown Recreation Center from 4:00pm-5:00pm. The sign waving event is part of the Honolulu Police Department's, C-TAP (Community Traffic Awareness Partnership).
Representative K. Mark Takai from the 34th House District represents both the Pearl City and Aiea communities and has been instrumental in coordinating the sign waving traffic awareness campaign.
"The purpose of this event is to ensure that everyone who drives Kaahele Street and our community is aware of the 25 mph speed limit," said Representative K. Mark Takai.
For more information or to comment on the problem of speeding in our community, contact Representative Takai @ reptakai@capitol.hawaii.gov or at 586-8455.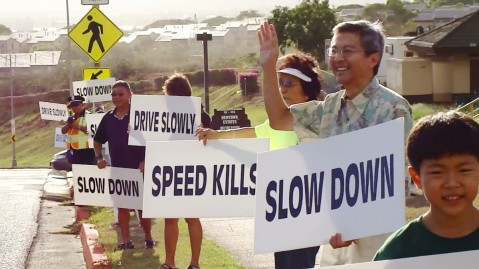 Photo by Barry Villamil | barry@mypearlcity.com
Volunteer sign wavers along Kaahele Street in Aiea on October 12, 2010.