Coach Mike Morton's, Pearl City Lady Chargers Varsity Basketball team is a few days away from the defense of their 2010 Oahu Interscholastic Association Red Western Division Championship.
The Lady Chargers find themselves with a young squad that will need to learn fast to compete in the highly competitive OIA Red West Division.
"We only have four returnees, the Angle twins, Sabrina and Shawna, AJ Sylva and Shay Alterado who are all Guards," said Lady Chargers head coach, Mike Morton. "Right now we're really young but we're practicing really hard. We're always looking to contend, to keep games close and hopefully pull it out in the end."
Replacing last season's leadership roles will play a big factor in the Lady Chargers success early on in their schedule.
"We don't have a standout leader right now," said Morton. " It's kind of like Sabrina Angle and AJ Slyva have taken the charge because they're running the Point and 2 Guard. We're still learning, we're still trying to feel our team out to see what everybody's role is."
Last season, the Lady Chargers finished with a 15-4 record overall that included the OIA Red Western Championship and a trip to the HHSAA State Championship playoffs.
The team also received top honors with Coach Morton being named OIA Red Western Division Coach of the Year. Senior Guard, Jordan Ahakuelo earned the OIA Red Western Division Player of the Year award with her outstanding play and leadership and teammates, Keshia Manning and Glacen Florita were named as second team all stars.
The Lady Chargers open the season on Tuesday, November 22 in a match-up with OIA Red West powerhouse Kapolei.
"Kapolei is tuff. It looks like they're the top dog in the west along with Mililani," Morton said. "We hope to keep the games close with them. They're huge and very big so we're looking to up tempo a little bit more, play with a lot of discipline, real good defense. That's our style of ball. We just have to play hard and smart."
You can count on the Lady Chargers playing hard and smart. Coach Mike Morton and assistant coach Jay Slyva won't have it any other way. They have the experience, knowledge, and motivation skills to guide their team to the top of the OIA Red Western Division.
Heart of a Champion. Go Lady Chargers!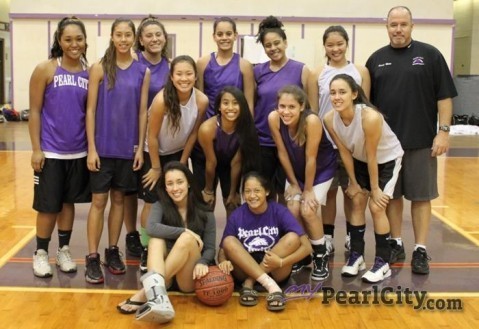 2010-11 Pearl City Lady Chargers Varsity Basketall team pictured with Head Coach, Mike Morton (top row, far right).
Pearl City High School Lady Chargers
Varsity Basketball Roster 2010-2011
Jersey# Name Height Grade Position
2 Sabrina Angle 5'3" 11 Guard
3 Adrienne Jean Sylva 5'4" 11 Guard
4 Shay Alterado 5' 12 Guard
10 Rachel Look 5'5" 11 Guard
11 Roblynn Kami 5'7" 09 Forward
12 Shawni Cayetano-Ramos 5'3" 11 Guard
14 Shawna Angle 5'3" 11 Guard
22 Tedi Espina 5'4" 11 Guard
23 Krystynn Naputi 5'8" 11 Forward
24 Sierra Mendiola 5'6" 12 Guard
32 Dani Magana 5'9" 11 Center
33 Tiari Walker 5'9" 11 Center
44 Paulina Langi 5'9" 12 Center
Head Coach: Michael Morton Trainers: Colin Lee
Asst Coach: Jay Sylva Kim Imamoto
Kara Taniyama Athletic Dir: Reid Shigemasa
Principal: Carlyn Fujimoto