Written by Cynthia Spencer, LCC Marketing Instructor:

Leeward Community College's newly formed Ceramics Club is having its first big event of the year. A ceramics sale, entitled, Can You Spin It?, is offered at Leeward CC on December 1 from 10:00 a.m to 2:00 p.m in the Library Concourse. Parking is free.
Can You Spin It? features unique hand crafted ceramic merchandise made by students and sold by students. Community members can purchase unique gifts for the upcoming holidays.
Proceeds from the Ceramics Sale will help fund future club events and provide extra materials for ceramics classes. Meet the artists and the instructor; find out how you can spin it too. Come early for the best selection!
For more information about the Ceramics Club and upcoming events log on to https://sites.google.com/site/leewardceramicsclub/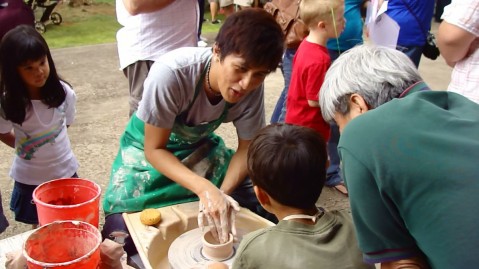 Photo by Barry Villamil | [email protected]
LCC Ceramics Club artist pictured here teaching the art of spinning at the Leeward Discovery Fair held on Saturday, November 6, 2010 at the Leeward Community College campus.

About Leeward Community College
As one of the seven community colleges in the University of Hawaii system, Leeward Community College provides access to higher education and plays an important role in workforce development in Leeward and Central O'ahu. The College focuses on students, teaching, learning, and responsiveness to community needs. With courses in more than 100 subject areas, Leeward CC offers a comprehensive curriculum for immediate entry into the workforce or for transfer towards a baccalaureate degree. Leeward Community College, with diverse student population and experienced and caring faculty, has provided access, affordability, and a high quality education to the people of Hawaii since 1968.
Contact:
Cynthia Spencer
Marketing Instructor
ph: 808.455.0524
Leeward Community College // 94-045 Ala Ike // Pearl City, HI 96782