Pearl City High School Senior, Chevas Numata has been invited to participate in the 5th Annual Power Showcase Home Run Derby competition to be held from December 28-30, 2010 at Chase Field, home of the Arizona Diamondbacks in Phoenix Arizona.
Numata is the only high school baseball player to be chosen from Hawaii. He will join 110 of the World's best power hitters in the competition. Numata is also 1 of 66 elite power hitters to represent the United States of America in the Power Showcase.
The 5th Annual Power Showcase is designed to give top high school power hitting prospects an opportunity to showcase their baseball skills in a Major League Stadium.
This year's Power Showcase special guest speaker list will include Babe Ruth's Granddaughter, Linda Ruth Tosetti who will also be there to give out two Babe Ruth awards. The first is the "Colossus of Clout" Bat Award that is given for the longest home run.
The second is the "Spirit of Babe Ruth" Bat Award which is given in honor of Babe Ruth who was the only 6 tool player in baseball: Hitting, Hitting for Power, Speed, Fielding, Throwing, and Pitching! It is given as an award to a Power Showcase participant who shows Ability, Strength, Leadership, Passion and Respect for the game of baseball.
During the 2010 season as a Junior, Numata batted .325 in 30 games for the Chargers with 24 runs scored, 27 hits, 12 doubles, 2 triples, 5 home runs and 33 runs batted in. He also moved around the diamond playing three positions, 1st base, 3rd base and pitcher when called upon.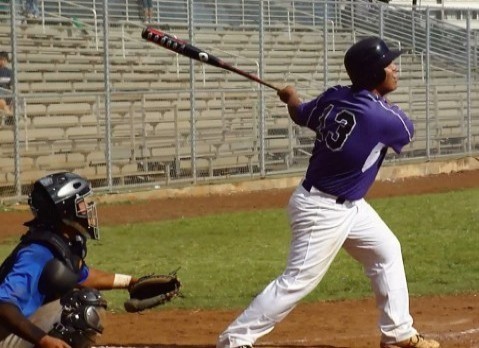 Photo by Barry Villamil | barry@mypearlcity.com
Chevas Numata from Pearl City High School pictured at bat against Moanalua High School during the OIA 2010 Varsity Baseball Playoffs.
Numata goes to bat for Coach Gary Nakamoto during the "Home Runs that Help" Campaign.

Part of the showcase, they have what they call "Home Runs That Help" Campaign which is a way for the players to give back to the community," said Cher Numata (Chevas Numata's mom).
"They are asked to find someone in the community, church, hospital, childrens hospital, school, who may be ill. The player takes a photo with this person, and when the player is up to bat for his homerun derby, they will put the picture up on the Jumbotron at Chase Field. The player's homerun session will be dedicated to this person and the first homerun ball will be saved to be given to this person. Chevas has chosen Coach Gary Nakamoto to dedicate his homerun session to. He hopes to do well in honor of Coach Gary," added Numata.
"I feel very fortunate to have been invited to participate in the 5th Annual Power Showcase," said Chevas Numata. "I hope to represent not only PCHS but also be a good representative for Hawaii. I hope to do well so I can honor Coach Gary by dedicating my homerun session to him. He was such a great coach to play for and I've learned so much from him. I will miss him this year and will also dedicate my last year of baseball at PCHS to Coach Gary."
Coach Nakamoto retired as head coach of the Pearl City Chargers Varsity Baseball program after the 2010 season. During his three year tenure as Skipper, Coach Nakamoto guided the Chargers to three consecutive Oahu Interscholastic Association Championships from 2008-2010.
Nakamoto took over the helm from Chargers legendary Head Coach, Mel Seki after his retirement in 2007. Before that, Nakamoto coached the Pearl City Chargers Junior Varsity baseball program from 1993 – 2007.
He is loved, respected and truly appreciated by his former players, coaches, parents, school administration, supporters, and those in the community that he continue's to touch as a friend and mentor.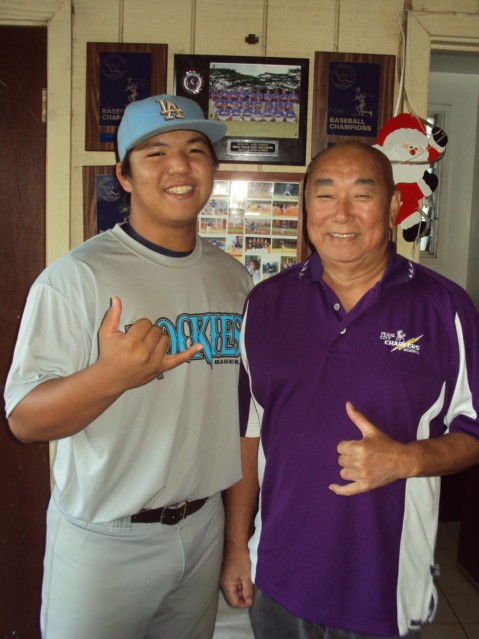 Photo provided by Cher Numata
Chevas Numata pictured with retired Pearl City Chargers Varsity Baseball Head Coach, Gary Nakamoto.


To learn more and to follow Chevas during the 5th Annual Power Showcase and "Home Runs that Help" Campaign, log on to the link below:
http://power-showcase.com/2011-event/5th-annual-line-up2/

5th Annual Power Showcase will be broadcast "live" worldwide via the POWER SHOWCASE Network.
Let's all wish Chevas the best of luck!

Take it out of the park for Coach Nakamoto!