The Pearl City Lady Chargers dug down deep on Tuesday to pull out a 62-59, come from behind victory over the visiting Campbell Lady Sabers in OIA Red Western Division Girls Varsity Basketball.
The Chargers trailed 35-22 at the half with the Sabers controlling the tempo of the first two periods. The second half was a different story with the Lady Chargers outscoring the Lady Sabers 18-14 in the 3rd period and 22-10 in the 4th period.
Pearl City's #33 Tiari Walker tied the ball game at 51-51 with 4:20 remaining on the clock. Campbell went back ahead, 51-54 with 3:22 left in the 4th period. The Chargers took back the lead with Sabrina Angle, Adrienne Jean Sylva, Sierra Mendiola and Tiari Walker all contributing down the stretch. The Chargers moved out to a 62-56 lead with 44 seconds on the play clock.
Campbell's # 5 Antonette Labausa hit a 3 pointer with 36 second left to to move within three points at 62-59. The Lady Sabers had one more chance to tie the ball game after a time out with 0.3 seconds on the clock but missed the shot.
"It was just desired, the girls never gave up," said Lady Chargers Head Coach, Mike Morton. "They just kept coming and kept coming. We told them to stay in front, don't reach and their going to turn over the ball, and they did."
The Lady Chargers were once again led on the court by Sabrina Angle who had a team high 23 points with three, three pointers and a timely steal in the 4th period that fueled the Chargers scoring. Adrienne Jean Sylva had a great game pumping in 15 points with two, three pointers.
Angle, Sylva and their teammates, played as one with their aggressive play and constant pressure on the Lady Sabers in the final minutes for the victory.
"Steal, lay up, steal, shot, we just never gave up. We needed this kind of game," Morton said.
The Lady Chargers improve to 6-4 and sit in third place in the OIA Red Western Division. The Lady Sabers recorded their third loss of the season and remain in second place at 7-3 behind league leading Kapolei who is a perfect 10-0.
Lady Sabers starting Center #24 Cassie Ernst had an oustanding game leading all scoring with a game high 24 points.
Scoring Leaders:

Campbell: Cassie Ernst -24, Antonette Labausa -12, Chantay Samante -10, Liza Bantolina – 6, Kealohilani Akiyama – 3, CJ Valeriano – 2, Ipo Achiu – 2
Pearl City: Sabrina Angle – 23, Adrienne Jean Sylva – 15, Dani Magana – 9, Tiari Walker – 8, Sierra Mendiola – 4, Rachel Look – 2, Shay Alterado – 1
3PM: Campbell: Antonette Labausa – 2, Pearl City: Sabrina Angle- 3, Adrienne Sylva – 2

Campbell 10 25 14 10 59
Pearl City 7 15 18 22 62
Lady Chargers say Aloha! to three Seniors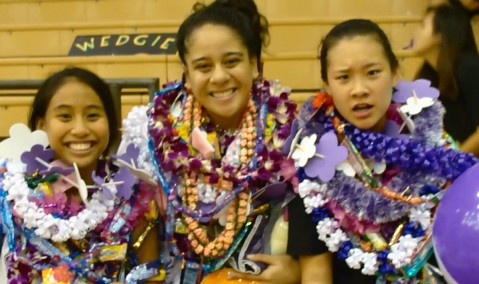 Photo by Barry Villamil | barry@mypearlcity.com
Lady Chargers Seniors (from left to right) #4 Shay Alterado (Guard), #44 Paulina Langi (Center), #24 Sierra Mendiola ( Guard).