POSTPONED – HIS Administration announced today that Saturday's (1/15) scheduled Campus Beautification Day has been postponed due to the bad weather. MyPearlCity.com will post the new work day as soon as it is available.
Dear Students, Parents, Families, Faculty, Staff and Community Members,
We need your help to spruce up our campus! Highlands Intermediate School (HIS) recently celebrated 50 years of service to the Pearl City community. Many of the facilities are showing its age and thus, HIS and HIS PTSA will be hosting a Campus Beautification Day to give the school a much needed facelift. Details of the event are provided below.
The Projects that we plan to work are:
1) REPAINT / REFRESH RESTROOMS
2) REPAINT /REFRESH LOCKER ROOMS
3) BRAND THE SCHOOL WITH NEW MASCOT / LOGO
4) REPAINT GREEN TRIM ON BUILDINGS
5) REPAINT PARKING LOT LINES
If you can help in any way (e.g., provide labor, supplies, equipment, refreshments, $$) please send an e-mail to the PTSA Campus Beautification Committee at [email protected]. (to receive sign up sheet form).
You can also contact Mr. Eric White, HIS Student Activities Coordinator / Student Government Advisor, at 453-6480 x310 or Mrs. Audrey Mikami, PTSA Campus Beautification, at 295-0072, if you have any questions.
Thank you in advance for your help and we look forward to seeing you on January 15, 2011.
Amy Martinson, HIS Principal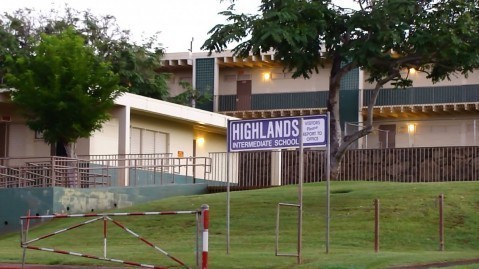 Photo by Barry Villamil | [email protected]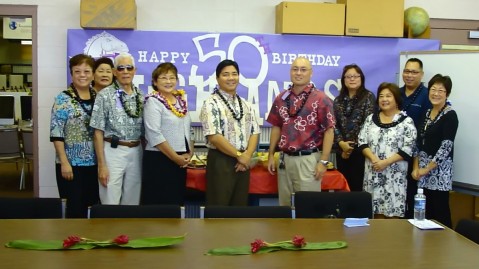 Photo by Barry Villamil | [email protected]
HIS Principal, Amy Martinson (4th from left) and former HIS Principal, Shige Ushiro (3rd from left) pose with Pearl City District Complex Principal's and staff during the HIS 50th Anniversary Celebration on March 11, 2010.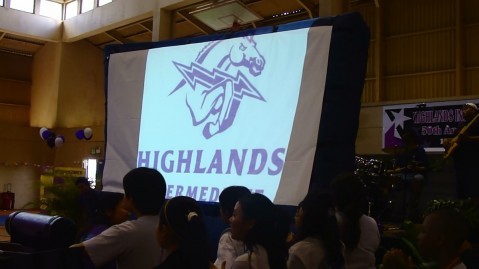 Photo by Barry Villamil | [email protected]
Members from the 2009-2010 HIS Student Council unveil the school's new Mascot and Logo to the student body during the 50th Anniversary Celebration Assembly.