The Pearl City Community Association (PCCA) invited its membership and guests to the 52nd Annual Installation/Appreciation Dinner held at the Pearl City Highlands Elementary School Cafeteria on Saturday, January 29, 2011.
The Royal Hawaiian Glee Club opened the evening entertaining the PCCA membership and guests as they arrived. PCCA Board Member and Honolulu City Councilman, Breene Harimoto introduced the special guests in attendance and gave the Invocation.
The Pearl City Elementary School music class ("Pearl City Idols") under the direction of Ms. Tammy Calbero sang and danced for the crowd during the first half of the dinner. Ashley Simpson and her band serenaded the crowd with beautiful Hawaiian music to finish out the dinner portion of the program.
PCCA member and American Savings Bank Branch Manager, Mr. Arnold Santayana had the honors of installing the new 2011 PCCA Officers and Board Members during the official part of the program.
2011 PCCA Officers
President………………………….Jits Fujimura
1st Vice President ………….. Warren Hiromoto
2nd Vice President…………..Barry Villamil
3rd Vice President …………..Dr. Reed Shiraki
Secretary………………………….Calvin Ebesutani
Treasurer…………………………Jason Martinson
Board of Directors
Joy Agni
Leroy Ching
Molina Gomez
Breene Harimoto
Alan Miyamoto
Michael Nakasato
Bob Kubo (Honorary Board Member)
———————————————————–
PCCA Treasurer, Jason Martinson and board members, Joy Agni and Molina Gomez presented the annual education donation checks to Pearl City District Complex Schools.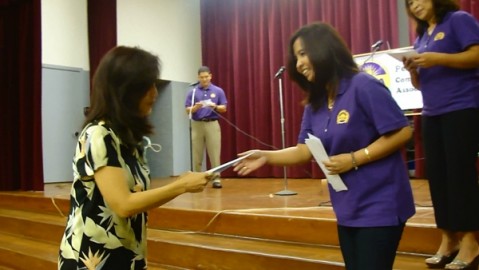 Photo by Barry Villamil | barry@mypearlcity.com
Pearl City Elementary School Principal Dr. Susan Hirokane accepts her PCCA check donation from board member Molina Gomez .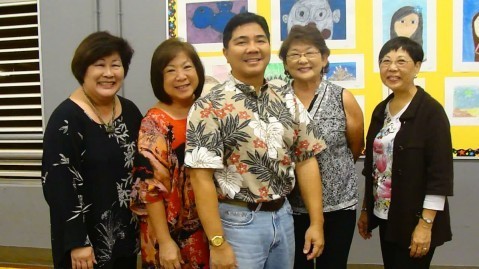 Photo by Barry Villamil | barry@mypearlcity.com
Pearl City District Complex School Principals (from left to right) Doreen Higa (Momilani Elem), Suzanne Yamada (Palisades Elem), Bryan Loo (Manana Elem), Amy Martinson (Highlands Intermediate), Fay Toyama (Lehua Elem). Not in picture: Dr. Susan Hirokane (Pearl City Elem), Troy Takazono (Waiau Elem) and Carlyn Fujimoto (Pearl City High School).

Also, a $500 PCCA donation was presented to Beverly Taira, 2011 Chairperson for Pearl City High School's Project Graduation program.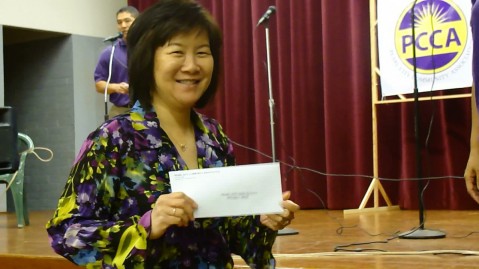 Photo by Barry Villamil | barry@mypearlcity.com
Beverly Taira poses with her PCHS Project Graduation check donation from the PCCA.

A special Mahalo to:
Royal Hawaiian Band Glee Club
Pearl City Elementary School Music Class (Pearl City Idols) and Ms. Tammy Calbero
Ashley Simpson and her band
Onorio Balantac
Waiau Seniors and President Mary Takeshita
Mana Loa-Nimitz Lions Club
Grace Bible Prayer Group and Stan Abe
Also, Mahalo to PCCA special guests:
Former Honolulu City Councilman Gary Okino
Doc Uejo
Senator David Ige
2011 PCHS Project Graduation Chairperson, Beverly Taira
2013 PCHS Project Graduation Chairperson, Patti Rabacal
Honorary Board Member Bob Kubo
Dave and Sheri Rolf from Rolf Advertising