The 2011 Pearl City High School Project Graduation planning committee has once again teamed up with Cutter Ford in Aiea to hold a Car Wash and KC Waffle Dog Fundraiser on Saturday, February 12, 2011 from 9:00am – 2:00pm.
"PCHS Project Graduation event is successful year after year because we have tremendous support from the community" says Karen Yim, PCHS PG, Past Chair. "Organizations such as Cutter Ford Aiea not only open their doors and provide a place for us to fundraise, but they make a generous monetary contribution as well". "We are so very fortunate."
Funds raised through all 2011 PCHS Project Graduation fundraising activities goes towards the cost of an all night event for the graduating seniors. The objective is to provide a safe place for the graduates to celebrate.
Come out to Cutter Ford in Aiea on Saturday, February 12 and support the 2011 PCHS Project Graduation Fundraising Program!
Pearl City High School-Project Graduation – Fundraising Event
Sat. Feb. 12 – 9:00am-2:00pm
What: – KC Waffle Dog Sale
– Car Wash
Where: Cutter Ford in Aiea
98-015 Kamehameha Hwy
When: Sat. Feb 12: 9:00am-2:00pm
Cost: Waffle Dog with Drink $4.00
Carwash: Sedans – $7.00
Vans & Trucks – $10.00
Presale tickets available but not needed. Walk-ins welcomed.
If you have any questions, please call Karen Yim at 543-4349.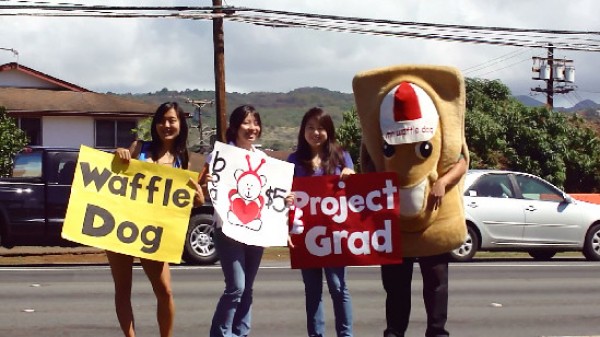 Photo by Barry Villamil | barry@mypearlcity.com
(Photo taken at February, 2010 PCHS Project Grad Fundraiser held at Cutter Ford in Aiea.)