The Pearl City Chargers opened the first round of the HHSAA Girls Division I Soccer Championships on Wednesday at the Waipio Peninsula Soccer Complex in Waipahu with a 2-0 win over the Kealakehe WaveRiders from the Big Island.
The Chargers and WaveRiders finished the first half scoreless with both teams missing opportunities to get on the scoreboard.
"First half we were average," said Chargers Head Coach Frank C. Baumholtz III. "Second half, we got a little more focused and did what we do best and created a couple opportunities and we finally capitalized on them.
Those opportunities in the second half came off the foot of sophomore Alix Suwa who scored her first of two goals (42nd) from about 35 yards out and her second (70th) on a spectacular corner kick.
"One of our sophomores got the kick, Alix Suwa. She had been practicing that all year and finally got one to go in and on her corner kick I think she bent the ball on the goal," said Baumholtz. I don't think it touched anybody but the goalie's hands. You got to be really proud of her for that," added Baumholtz on Suwa's outstanding performance against Kealakehe.
Suwa actually received a huge boost of encouragement before taking the shot on her first goal from coach Baumholtz on the sidelines.
"I yelled at her just before to shoot it!" said Baumholtz. "I'm pretty sure it touched the head of one of the Kealakehe girls. It came off the top of her head. If she would have let it go I think it would have gone right in the goalie's hands."
The Chargers kept the WaveRiders off the scoreboard behind the impressive play of sophomore goalie, Manaia Siana-Unutoa.
"Manaia has really done well. She really controls everything. She has two more years, she's only a sophomore," said Baumholtz. "There was one time today we had five sophomore's on the field. That's just great for us for the future. Manaia came out and stuffed. Took that one right off that kicker's foot. Just took it right in the stomach, caught the ball, shoot her over the top and that was fabulous, just fabulous."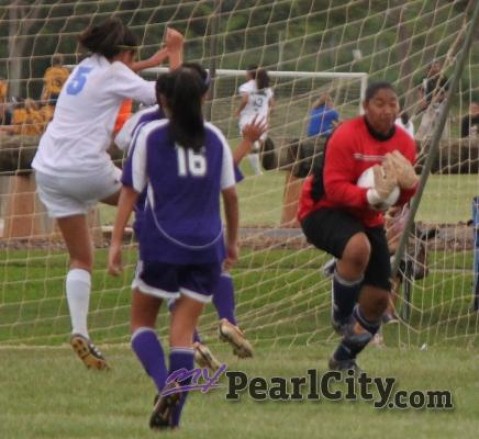 Photo by Barry Villamil | [email protected]
Pearl City sophomore goalie Manaia Siana-Unutoa at work in front of the goal for the Chargers against Kealakehe.

The Chargers (11-3-3) move on to the Quarterfinals with a match up against OIA Champion and #2 Seed Mililani (13-0-2) on Thursday (2/10), 7:00pm at the Waipio Peninsula Soccer Complex Main Stadium.
Kealakehe will take on Kapolei in the consolation bracket on Thursday (2/10) on Field 8 at 1:00pm.
"I'm so excited to play Mililani, I can't believe it," said Baumholtz as he prepares his team for a third meeting against the Trojans. "You always want to play the big games and that's it. We'll be ready tomorrow and just going to take it to them. All we got to due is create the same opportunities we created tonight, the corner kicks. We had more corner kicks today than we've had in any two games this season."
In two earlier match-ups during the OIA Red West regular season, Mililani and Pearl City played to a 0-0 tie on 12/14/10 and on 1/14/11 Mililani defeated Pearl City 3-1.
Photo by Barry Villamil | [email protected]
Pearl City's #24 Kelsie Ng putting her foot in to a corner kick on Wednesday against Kealakehe.

Go Chargers!
Note: Kealakehe will take on Kapolei in the consolation bracket on Thursday (2/10) at 1:00pm on Field 8.