Parent Child Development Center (PCDC) Program Director, Sharon Imanaka leads a dedicated PCDC staff that begins everyday with a mission and goal to provide quality early intervention services for families with children ages 0-3 with developmental concerns.
"Our purpose is to provide important early intervention services to infants and toddlers with developmental delay," said Imanaka, "Any child within the age of 0-3 found to have a significant delay in one or more of six areas are eligible with the developmental areas being, cognitive, language, fine motor, gross motor, social/emotion and self-help skills," added Imanaka.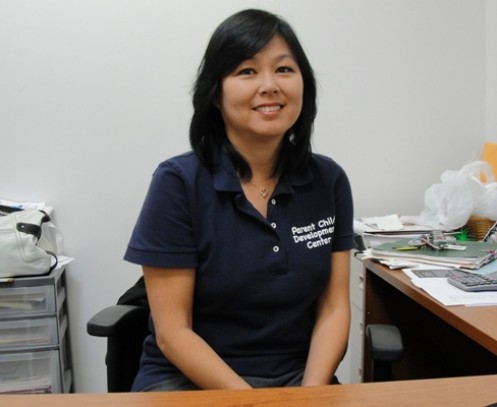 Photo by Barry Villamil | [email protected]
Program Director, Sharon Imanaka pictured at her desk in the PCDC Waipahu office.

Imanaka manages the PCDC Waipahu location that also extends services to portions of Pearl City.
"We serve Pearl City from west of Waimano Home Road, Pacific Palisades and Pearl City Peninsula," said Imanaka. "We also offer our services in Waipahu South of the H1 freeway and all of Kunia."
"All of the research indicates the earlier the intervention, the better the outcome," said Imanaka. "This is true for any type of intervention be it medical, psychological, developmental, etc."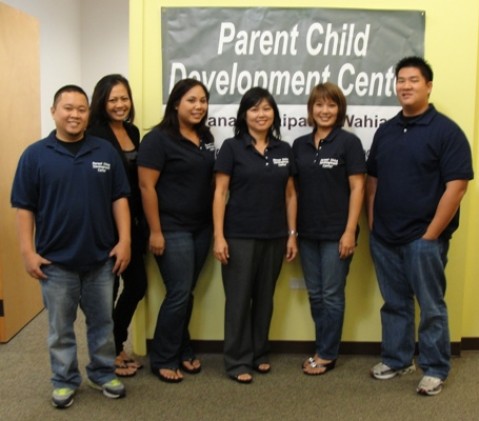 Photo by Barry Villamil | [email protected]
PCDC Waipahu staff (from left to right) Christopher Pelayo (Care Coordinator), Ernell Sarono (Program Assistant), Yuki Lei Tanaka (Care Coordinator), Sharon Imanaka (Program Director), D-Anne Ono (Program Assistant), Randall Young ( Care Coordinator).

The PCDC lists the following services available in their early intervention program:
Care Coordination services: Assist families in locating and receiving needed services for child and family.
Developmental Evaluations: Determines child's strengths and any developmental concerns.
Therapy services: An Occupational Therapist, Physical Therapist, Special Educator, Speech-Language Pathologist and Developmental Therapy Assistant will provide individual and group sessions. The therapists offer families how to work with their child in their daily routines at home.
Family support services: Address concerns about child or home situation, and help families locate resources which meet these concerns.
Imanaka has a passion for helping children and their families through the Parent Child Development Center in Waipahu. She is grateful for the exciting opportunity that she has, along with her staff, to experience special moments with the children and their families.
"Working in early intervention is the most rewarding position I have ever worked in because of the age that we work with," said Imanaka.
"Often times, we, as early interventionists get to experience exciting moments like first steps or first words right along side with parents. We get to share in the joy and pride in that baby's and family's accomplishment. Knowing that we help children reach important milestones such as those is a very rewarding and professionally satisfying experience," added Imanaka.
PCDC services are free of charge through funding by the State of Hawaii Department of Health, Early Intervention Section.
The Parent Child Development Center is part of the Waianae Coast Early Childhood Services. The PCDC has 3 locations in the following areas on Oahu:
PCDC- Wahiawa
1430 California Avenue
Wahiawa, Hi. 96786
(808) 621-2322 Fax: (808) 621-5033
Joanne Higashi, Program director
PCDC – Wai'anae
89-195 Farrington Hwy.
P.O. Box 2873 Waianae, Hi 96792
(808) 696-7657 Fax: (808) 696-5587
Susan Merrill, Program Director
PCDC – Waipahu
94-408 Akoki St. Suite 202
Waipahu, Hi. 96797
(808) 676-5584 Fax: 676-5587
E-mail: [email protected]
Sharon Imanaka, Program Director
How Families Can Find the PCDC:
Families may give permission to anyone, such as a doctor, public health nurse, an agency representative or relative to call the:
Hawaii Keiki Information Service System: HKISS: 594-000
Family may also call HKISS directly. With a referral, PCDC will contact family to schedule an appointment.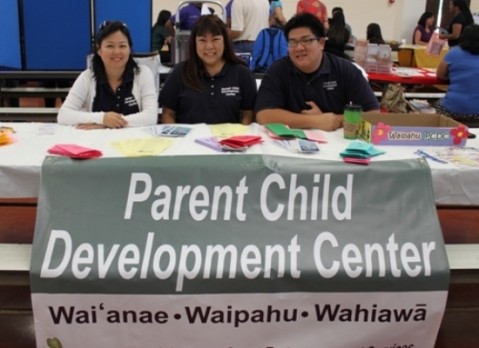 Photo by Barry Villamil | [email protected]
Sharon Imanaka (left) and staff pictured at the Pearl City Community Health Fair held earlier this month at the Pearl City High School cafeteria.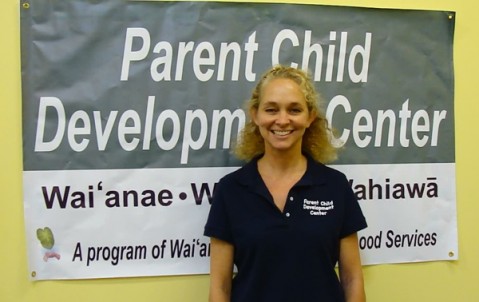 Photo by Barry Villamil | [email protected]
Ericka Frink, PCDC Special Instructor (cognitive development and behavioral concerns).