Award winning baseball novelist, John Ritter made a visit to the Pearl City Public Library on Thursday, February 17, 2011 to honor and celebrate the accomplishments of Hawaii's Waipio Little League 2010 US World Series Champions, the Mililani Po`okela girls softball team, 2010 ASA Girls 14-Under Class B Fast Pitch Western National Champions; and the Central Oahu Wahine softball team, Champions of three 2010 national tournaments.
Ritter visit was sponsored by The Society of Children's Book Writers and Illustrators for the "Baseball Champions @ the Library" program for young adults. Those in attendance which included team members, coaches and parents, were treated to Mr. Ritter reading excerpts from his award winning novels which included his debut novel "Choosing Sides" that won the 1999 IRA Children's Book Award for Older Readers.
He has four other novels which include; "Over the Wall" (2002), "The Boy Who Saved Baseball" (2005), "Under the Baseball Moon" (2006) and "The Desperado Who Stole Baseball" (2009).
Ritter shared with the audience how his novels feature characters that represent real life childhood friends and teammates that have inspired storylines. He shared his own experiences playing baseball and his dream of some day playing major league baseball. Ritter grew up in San Diego, California near the Mexican border and played baseball from little league to the collegiate level.
The author immediately connected with Hawaii's champions after sharing his own experiences playing in baseball championship tournaments while growing up in San Diego. He also expressed his appreciation for the opportunity to meet and speak to the champions.
It's an honor for me," said Ritter. "I'm coming here as this author who has written five novels but it's an honor for me to meet these kids who faced a lot of pressure to get where they got. They faced more pressure in their little league season than many adults do in their entire lives."
"They came through, they didn't buckle and they came from behind a lot of times. I can see the humility in them. I can see the friendship and camaraderie. These are special kids. It was an honor for me to come here and to see these guys and the girls softball team, having coached kids like that. Its all tough at any level when you're in a championship game. It's tough, a lot of pressure."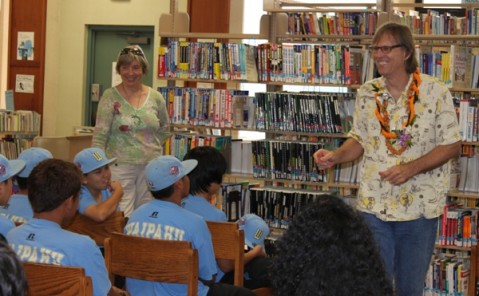 Photo by Barry Villamil | barry@mypearlcity.com
Baseball Novelist John Ritter pictured sharing his story and also sending words of encouragement and congratulations to the youth champions.

Brian Yoshii who is the Manager of the Waipio Little League U.S. 2010 World Series Champions, shared his thoughts on being a part of the championship experience as well as watching his ball players mature and grow.
"It was an honor to represent Hawaii and these kids are very special," said Yoshii. "It was a great experience just being with them and watching them grow. They showed what they're about and hopefully they showed what the people of Hawaii are about, the humility, the heart, and never giving up."
"They know they have a really big responsibility because people are watching them. They've been given a lot from the community and they have been given a lot of opportunities. They have to give back and they have to help others. Some of them are helping other kids, younger kids. I have a lot of confidence in them. They have been raised well by their parents."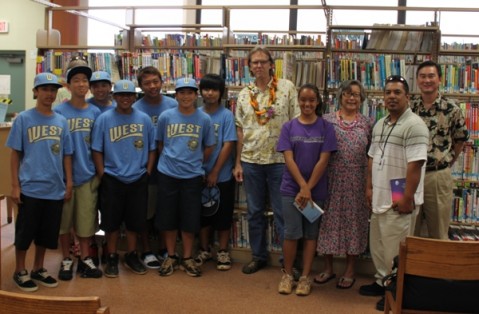 Photo by Barry Villamil | barry@mypearlcity.com
Honorees pose with award winning baseball novelist John Ritter for a group photo at the Pearl City Public Library on Thursday, February 17, 2011.

Mr. Ritter also shared his thoughts on the daily grind of being a successful writer and what it actually takes to put it all together. The author has also landed one of his novels "Choosing Sides" in the Major League Baseball Hall of Fame. A moment that truly changed his life.
"I'll guarantee that writing is probably one of the hardest things I've ever done," said Ritter. "Maybe not being able to hit that left handed curve would be right above it because it's just torture sometimes. It's very difficult. When you write, you have a love for something but how do get that down into a story, into a fiction? The story comes first. Once I get the story, it feels like a good story with twists and turns and a nice ending. Then I can go back and use my writing skills to get the metaphors and all these kinds of things."
"When I found out one afternoon, out of the blue, that my book sit's in the hall of fame, I was just speechless. I was quiet for a long, long time. I walked around the house and my wife knew what was up but just gave me my space. It was just something that resonated all the way back to my dad growing up. This was something he had, a dream. His brother played pro ball, not major league, but pro ball, so in his family they came from that dream. Here I was, my dad was still alive and I got to tell him this news. There were some quiet moments but we both knew the deep resonance of that significance.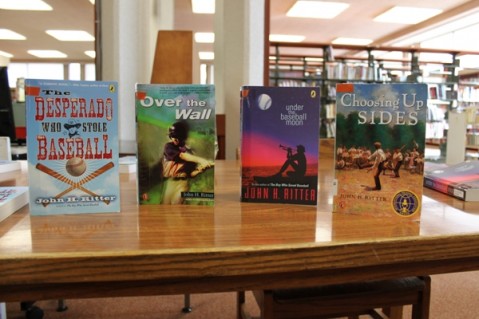 Photo by Barry Villamil | barry@mypearlcity.com
Four of five novels from author John Ritter pictured at the Pearl City Public Library. All five are available at the Pearl City location.

Mahalo to Mr. John Ritter, The Society of Children's Book Writers and Illustrators and the Pearl City Public Library for honoring our Hawaii champions!
To learn more about award winning baseball novelists John Ritter, log on to his web site at:
Log on to the Hawaii State Public Library website at:
http://www.librarieshawaii.org/