The 2011 Pearl City Chargers varsity baseball team is off to a 2-0 start in the Oahu Interscholastic Red Western Division under first year head coach, Mitch Yamato. Coach Yamato became the Chargers Skipper after a successful career as the head coach for the Pearl City junior varsity baseball program.
Yamato follows a strong championship caliber coaching lineage at Pearl City High School that promotes its junior varsity coaches to the varsity level. Most recently with his predecessor, Gary Nakamato who guided the Chargers from 2008-2010, winning three OIA Championships and appearances in the state championship tournaments. Nakamoto spent 15 years with the junior varsity program as head coach.
Former Chargers head coach, Mel Seki led Pearl City for many years winning two OIA Championships and a runner up finish in the state tournament and coach of the year honors in 2006. Seki stepped down after the 2006 season and passed away in 2008 after a long battle with cancer.
The winning attitude and structure is there for Coach Yamato, his coaching staff and the multi talented 2011 squad to defend their 2010 OIA Championship. He knows his players abilities and personalities well after coaching most of them in the junior varsity program. The players also know what Coach Yamato's expectations are and the level of success that must be met as a Pearl City Chargers baseball player, student in the classroom and as representative of the Pearl City community.
MyPearlCity.com sat down with Coach Mitch Yamato for a Q&A discussion about his 2011 Pearl City Chargers baseball team.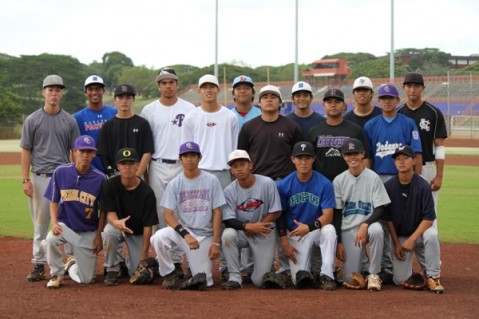 Photo by Barry Villamil | barry@mypearlcity.com
2011 Pearl City Chargers baseball team pictured at their Pearl City High School home field.

Q: Returning members in key positions and senior leadership roles?
A: This year we have 12 returning members. They are Tyler Tokunaga, Kai Kealoha, Reid Akau, Tyler Hazama, Brian Iida, Kory Nakamura, Isaac Shim, Chevas Numata, Austin Bolosan, Jesse Kauhane, Sumi Pruett, and Troy Scanlan.
Like with any other baseball team, pitching plays a big part, as well as all other positions. All of our seniors in their own way are leaders for this year. Being that this is their last year here at Pearl City, they want to go as far as possible. That is,playing in the last game of the 2011 baseball season.
Q: Newcomers that will make an impact this season?
A: This year we are blessed with several rookies who play a part to the success of this team. Freshman, Tyler Tokunaga, of the 2008 Little League World Series Championship team, will play infield, outfield and show off his skills on the mound as well.. Sophomore, Kyle Tom, will also get time at third base. Sophomore, Sean Milan, a crafty left hander will see time on the mound and in the outfield.
Q: Starting pitching rotation?
A: We have several pitchers to choose from. Chevas Numata, Sumi Pruett, Isaac Shim, Tyler Tokunaga, Jesse Kauhane, Sean Milan, and Sheldon Milan could start for us.
Q: 2011 Coaching Staff?
A: Coaches for this year are pitching coach Paul Brown, alumni Wade Taguchi who handles hitting and the infielders, Chad Obara who also works with the infielders, and Duke Ah Chong and Keith Nakamura who work with the outfielders.
Q: Top OIA Red Western Division competition?
A: I haven't scouted much yet, so we will take no team lightly. In the game of baseball, on any given day, any team can win. That's why we take nothing for granted.
2011 Chargers Varsity Baseball Roster:
#1 Tyler Tokunaga
#2 Kai Kealoha
#3 Reid Akau
#4 Sheldon Milan
#7 Tyler Hazama
#8 Brian Iida
#9 Sean Milan
#10 Kory Nakamura
#11 Gage Muller
#12 Isaac Shim
#13 Chevas Numata
#14 Cory Allen
#15 Tanner Tokunaga
#16 Austin Bolosan
#17 Lane Asuncion
#20 Kamalu Neal
#21 Jesse Kauhane
#22 Sumi Pruett
#23 Troy Scanlan
#24 Tyler Akau
#25 Kyle Tom
#26 Brock Honda
#27 Bryan Okinaga
2011 Chargers Coaching Staff
Head Coach Mitch Yamato, Assistant Coaches: Paul Brown, Wade Taguchi, Chad Obara, Duke Ah Chong and Keith Nakamura.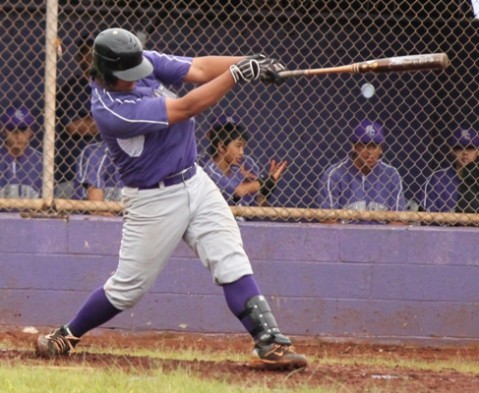 Photo by Barry Villamil | barry@mypearlcity.com
Pearl City Senior #13 Chevas Numata brings power at the plate as well as strong arm from the mound and 3rd base for the Chargers in 2011.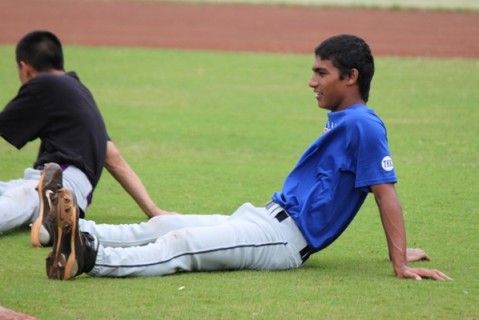 Photo by Barry Villamil | barry@mypearlcity.com
Pearl City's, Isaac Shim brings senior leadership and experience as a pitcher, catcher and with the bat for Chargers this season.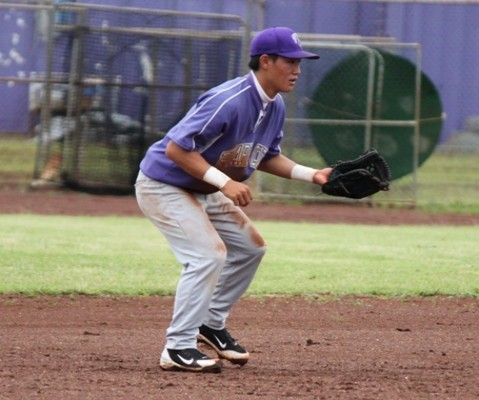 Photo by Barry Villamil | barry@mypearlcity.com
Pearl City Junior, #3 Tyler Tokunaga takes over at shortstop for the Chargers in 2011.


Photo by Barry Villamil | barry@mypearlcity.com
Coach Yamato working with starting pitcher #13 Chevas Numata and catcher Isaac Shim during recent 7-4 victory over the visiting Kapolei Hurricanes.

2011 Chargers OIA Red Western Division Regular Season Schedule:
Sat. 3/5 Kapolei @ Pearl City 11:00am W 7-4
Sat. 3/5 Kapolei @ Pearl City Game 2 W 10-4
Wed. 3/9 Pearl City @ Leilehua 3:30pm
Sat. 3/12 Leilehua @ Pearl City 11:00am
Wed. 3/23 Waianae @ Pearl City 3:30pm
Fri. 3/25 Pearl City @ Waianae 3:30pm
Wed. 3/30 Mililani @ Pearl City 3:30pm
Sat. 4/2 Mililani vs. Pearl City (OC-16 @ CORP 3:30pm)
Wed. 4/6 Campbell @ Pearl City 3:30pm
Sat. 4/9 Pearl City @ Campbell 11:00am
Sat. 4/16 Aiea @ Pearl City 11:00am
Go Chargers!