Pearl City's Maya Nagata came through for the Chargers yesterday with a sixth inning 3 run homer that turned out to be the game winner against the visiting Leilehua Lady Mules.
"It felt really good. I was struggling with the outside before, so it felt good to hit it to the opposite field," said senior Maya Nagata on hitting the game winning homerun in the sixth inning.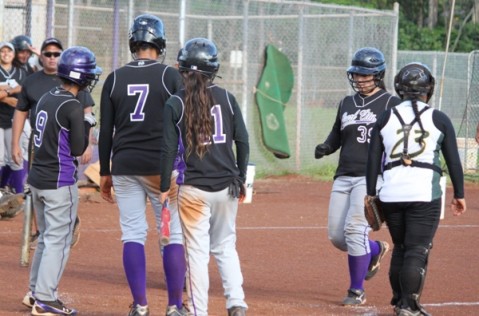 Photo by Barry Villamil | barry@mypearlcity.com
#39 Maya Nagata approaching home plate and teammates after her game winning 6th inning 3-run homerun.

Nagata had a great day at the plate hitting 2-3 with 4 RBI and a run.She drove in the first run of the game in bottom of the first inning scoring teammate Sierra Tadiarca.
The Chargers held a 1-0 lead until the top of the fourth inning when the Lady Mules put across three runs to go up 3-1.
The Lady Chargers scored in the bottom of the fourth inning on a RBI double from Sierra Mendiola that scored Courtney Ahlo from second base.
In the top of the fifth inning #7 Krystin Kubo powered a 3-run home run to put the Lady Mules up 6-2.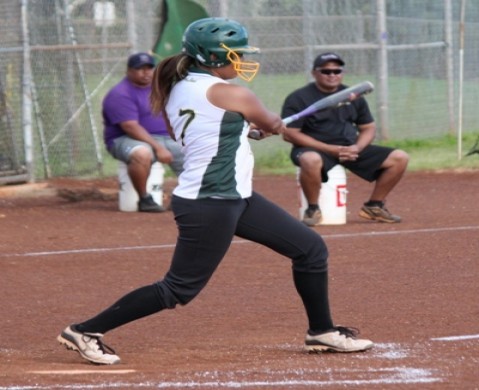 Photo by Barry Villamil | barry@mypearlcity.com
Leilehua's #7 Krystin Kubo pictured hitting a 3-run home run in the top fifth inning.

In the bottom of the fifth inning the Chargers would score three runs highlighted by Courtney Ahlo's 2-run double to close to within a run at 6-5.
In the bottom of the sixth inning, Sierra Mendiola led off for the Chargers with a single. Sierra Tadiarca attempted a bunt up the first base line pushing Mendiola to second base. Keani Passi came up to bat next and lined a single to right field moving Mendiola to third base. Maya Nagata stepped up to the plate with runners on first and third and powered an opposite field, three run home run over the right field fence.
"I felt it. I questioned it at the fence, but then when I saw it go over I was happy," said Nagata.
The Lady Chargers put it together on both defense and offense with excellent performances by starting pitcher Sella Rodriguez. and starting catcher Maya Nagata behind the plate and with the bat.
"We played good enough defense to win," said Lady Chargers Head Coach Keoke Behic. "Sella pitched an outstanding game. The first couple of games we didn't get clutch hits when we needed it and at the end our senior Maya Nagata clutched up for us big time."
The Lady Chargers split the two game series with the Lady Mules with Tuesday's win. The team lost to the Lady Mules in eight innings, 2-1 on Saturday at Kaala Field in Wahiawa.
"Today's game they felt a lot more confident because Leilehua's pitching plan was a lot different from the first game," said Behic. "Instead of feeding us all the way, they were moving it in and out and they could see the ball a lot better. So they were confident that eventually, if they get more looks, that eventually they would hit the ball."
Leading hitters for the Chargers: Sierra Mendiola, 3-4, 1 RBI: Keani Passi, 2-2, 2 runs: Maya Nagata 2-3, 4 RBI, 1 run: Joe-Ann Rapoza, 2-4, 1 RBI, 1 run: Courtney Ahlo, 2-2, 2 RBI, 1 run.
WP – Sella Rodriguez
L – Meagan Tupinio
@ PC 1 2 3 4 5 6 7 R H E

Leilehua (2-2) 0 0 0 3 3 0 0 6 10 0

Pearl City (1-1) 1 0 0 1 3 3 X 8 11 0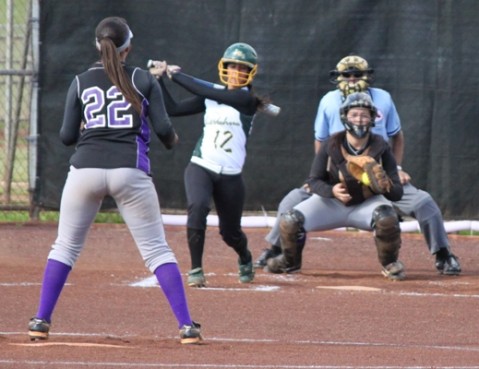 Photo by Barry Villamil | barry@mypearlcity.com
#22 Sella Rodriguez throwing strikes against Lady Mules batters on Tuesday.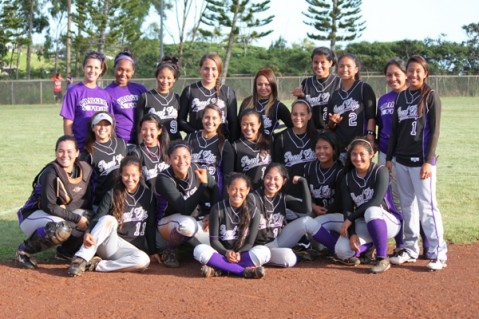 Photo by Barry Villamil | barry@mypearlcity.com
Go Lady Chargers!

Next Game:

Saturday, March 19

Mililani @ Pearl City (Doubleheader)

First Game: 10:00am