The Mililani Trojans knocked Pearl City out of the unbeaten ranks with a 9-6 victory over the Chargers in OIA Red Western Division Varsity Baseball on Wednesday at Pearl City High School.
Mililani sophomore ace hurler, Christian Namoca pitched 4 1/3 innings, striking out four with two walks to earn the win. Namoca held the Chargers scoreless through four complete innings.
Pearl City's Isaac Shim took the loss for the Chargers allowing seven runs on eight hits in five innings.
Mililani bats tapped Shim for two runs in the first inning, three runs in second inning and two more runs in the third inning for a comfortable 7-0 lead after three innings.
In the bottom of the fifth inning, with a 7-0 lead, Namoca ran into trouble after loading the bases with one out. The Trojans pulled Namoca for reliever Jameson Madrid. The Chargers jumped on Madrid scoring five runs to close the gap to 7-5 at the end of five complete.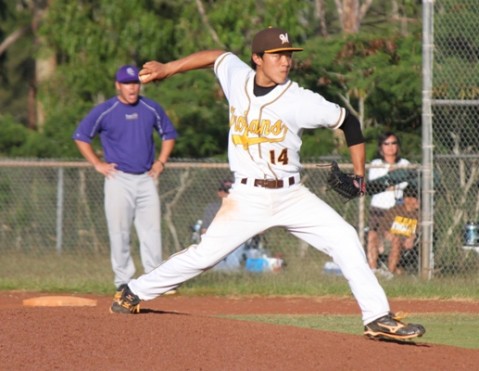 Photo by Barry Villamil | [email protected]
Mililani's Jameson Madrid in relief for starter Christian Namoca in the 5th inning.

http://www.youtube.com/watch?v=UMX7pxwFaxo

In the top of the sixth inning the Trojans responded with two more runs on two hits to go up 9-5.
The Chargers made it 9-6 on Isaac Shim's RBI triple in the bottom of the sixth inning.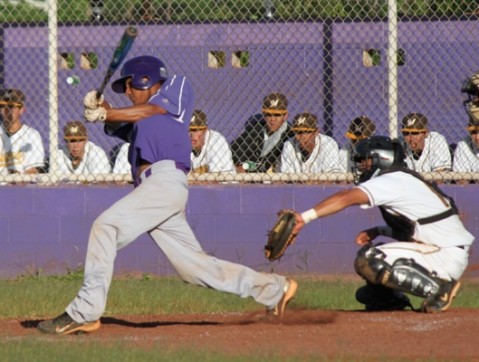 Photo by Barry Villamil | [email protected]
Issac Shim makes the score 9-6 with an RBI triple in the bottom of the 6th inning against the Trojans.

Pearl City's Troy Barbosa Scanlan, 2-4, RBI, run and Tanner Tokunaga, 2-4, 2B, RBI led the Chargers on offense.
Mililani was very productive on offense; Troy Yoshizawa, 3-4, 2 RBIs, 2 runs; Jacob Mariano, 2-3, RBI, run; Justin Revilla, 2-3, RBI, run; Reid Uyehara, 2-4, 2B, RBIs, run; Ekolu Ramos, 2-3, 2 runs.
Pearl City and Mililani move into a tie at 6-1 in the OIA Red West Division. The two teams will play in a rematch on Saturday, April 2 at Patsy Mink Central Oahu Regional Park in Waipio. Game time is set for 3:30pm and will be televised live on Oceanic OC-16.
W – Christian Namoca
L – Isaac Shim
@Pearl City
Mililani (6-1) 2 3 2 0 0 2 0 9 11 2
PC (6-1) 0 0 0 0 5 1 0 6 7 4