The Pearl City Chargers took sole possession of first place in the Oahu Interscholastic Association Red West Division with a 7-1 victory over the Mililani Trojans on Saturday at Patsy Mink Central Oahu Regional Park.
Entering Saturday's contest (broadcasted live on Oceanic OC-16), the two teams shared the top spot in the OIA Red West with 6-1 records. On Thursday, Mililani beat Pearl City 9-6 at the Chargers home field to knock them from the unbeaten ranks.
Saturday was a totally different ball game with the Chargers blending speed from the mound and power and "patience" on offense to overwhelm the Trojans.
"It was the intensity that they brought into this game," said Chargers head coach, Mitch Yamato. "They hit their pitches. They were more patient and not too anxious on the pitches."
Pearl City's starting pitcher Chevas Numata had a strong performance throwing a complete game allowing five hits and one run while striking out five in seven innings of work.
"Chevas did it himself," said Yamato. "He didn't use too many pitches just basically fast ball and he stuck with it. Chevas and Isaac (Shim) did a good job today."
"I felt good, my "D" backed me up today," said Numata. "Today my fastball was working really good and then I fell back to my offspeeds. I felt really strong towards the end. Again, my defense helped me out."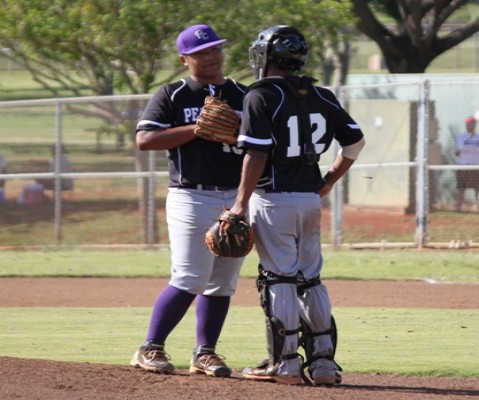 Photo by Barry Villamil | barry@mypearlcity.com
Pearl City catcher Isaac Shim quarterbacked the defense. Pictured here going over strategy with Numata.

The Chargers were explosive on offense pounding out eleven hits against Trojan pitching. Troy Barbosa Scanlan was an example of Charger power with a 5th inning solo home run. Scanlan added a two RBI single in the 6th inning. Sheldon Milan was solid at the plate hitting 3-4. Isaac Shim led off the top of the 6th inning with a double off the left field fence that just missed going out .
"I felt good going up to the plate," said Scanlan on his productive day at the plate. "Just going with the approach to just put the ball in play and I guess I got a hold of one. I was just looking for a fastball the whole time and when one finally came in the zone I just threw my hands out and it went out."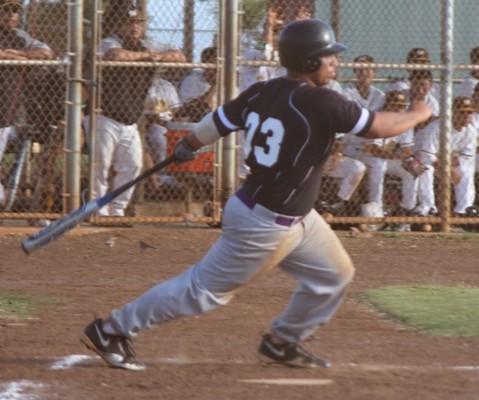 Photo by Barry Villamil | barry@mypearlcity.com
Troy Barbosa Scanlan pictured driving a 2 RBI single to center field in the 6th inning.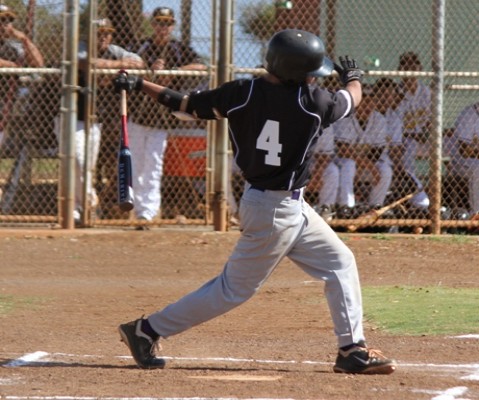 Photo by Barry Villamil | barry@mypearlcity.com
Sheldon Milan went 3-4 pictured here hitting a single.

Pearl City got on the scoreboard in the first inning on an RBI double from Tyler Tokunaga scoring Kai Kealoha from third base. Tokunaga scored from third base on a fly out by younger brother Tanner Tokunaga. Pearl City led 2-0.
The Chargers made it 3-0 with one run in the top of the third inning.
Mililani scored their only run in the bottom of 4th inning on an RBI single by Dustyn Cook with two outs scoring Troy Kakugawa from third base to make the score 3-1.
Troy Yoshizawa led the Trojans at the plate hitting 2-4.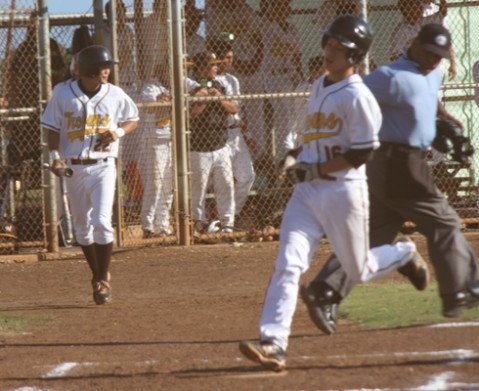 Photo by Barry Villamil | barry@mypearlcity.com
Mililani's Troy Kakugawa touches home plate in the 4th inning for the Trojan's only run.

Pearl City added another run on a solo home run by Troy Barbosa Scanlan in the 5th inning increasing their lead to 4-1.
The Chargers would go on to score three runs in the bottom of the 6th inning to go up 7-1 against the Trojans.
Mililani starting pitcher, Mikey Asamura pitched five innings allowing six hits and four runs while striking out five. Kanoa Hironaka pitched the 6th and 7th innings in relief of Asamura allowing five hits and three runs with one strike out.
W – Chevas Numata
L – Mikey Asamura
@ Central Oahu Regional Park
Pearl City 2 0 1 0 1 3 0 7 11 2
Mililani 0 0 0 1 0 0 0 1 5 1