Campbell High School starting pitcher Robert Kahana came to Pearl City High School on Wednesday with the heavy task of facing the Oahu Interscholastic Association Red Western Division leader, Pearl City Chargers.
Kahana came away with a 4-2 win, tossing a complete game and holding the powerful Chargers bats to three hits. Kahana also contributed on offense hitting a triple in the fourth inning.
Chargers starting pitcher, Sumi Pruitt pitched five complete innings allowing two runs in a no decision. It was Pruitt's first appearance on the mound this season.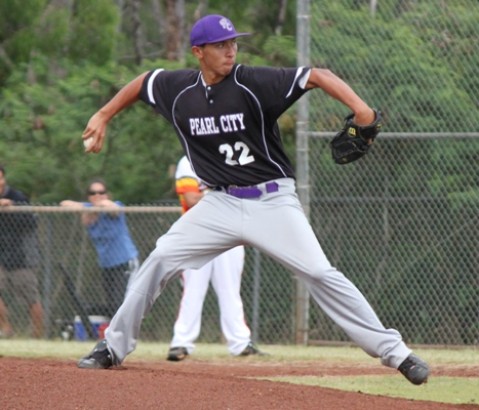 Photo by Barry Villamil | barry@mypearlcity.com
Sumi Pruitt on the mound for the Chargers.

The Chargers got on the scoreboard first in the bottom of the third inning after Kai Kealoha, who led off with triple, scored on Tyler Tokunaga's fly out to right field.
in the top of the fourth inning, the Sabers came back to tie the score at 1-1. Robert Kahana blasted a triple off of Chargers starting pitcher Sumi Pruitt and would later score.
In the fifth inning the Sabers added one more run to go up 2-1. The Chargers came back in the bottom of the fifth inning to tie the game at 2-2 on Troy Barbosa Scanlan's RBI double that scored Tyler Tokunaga from second base.
Campbell scored their final two runs off of Pearl City's Tyler Tokunaga who came into the game in relief of starting pitcher Sumi Pruitt in the 6th inning. Po'okela Ka'alekahi broke the 2- 2 tie with an impressive solo home run that sailed over the center field fence. Jaris Flora drove in the Sabers final run with an RBI double in the same inning.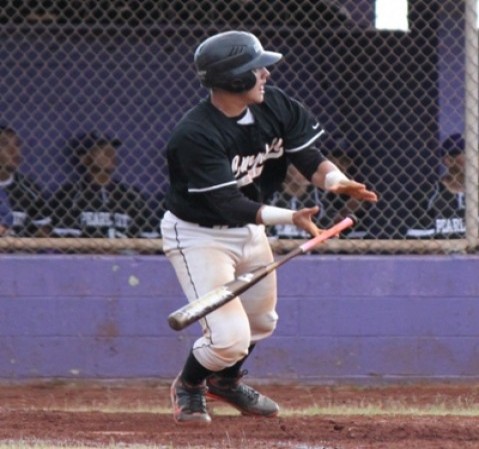 Photo by Barry Villamil | barry@mypearlcity.com
Campbell's Po'okela Ka'alekahi watches his 6th inning home run make its way over the center field fence on Wednesday at Pearl City High School.

Campbell (5-4) and Pearl City (7-2) will play again on Saturday, April 9, 2011, 3:00pm at Campbell High School.
W – Robert Kahana
L – Tyler Tokunaga
@Pearl City
Campbell 0 0 0 1 1 2 0 4 6 2
Pearl City 0 0 1 0 1 0 0 2 3 1