The Pearl City Chargers varsity baseball team continued on their quest to capture a 5th straight Oahu Interscholastic Association Red Division Baseball Championship with a 12-5 quarterfinal win against Roosevelt yesterday at the Chargers home field.
The win sets up a today's semifinal match up with OIA Eastern Division Champion Kailua at the Surfriders home turf at 3:30pm.
The Chargers found themselves down 1-0 after half an inning yesterday against Roosevelt but it didn't take long to erase the deficit. Charger bats exploded in the bottom of the first inning, jumping on Roosevelt starting pitcher Brandon Ikeda for four runs which included a couple triples and a home run.
Kai Kealoha led off the bottom of the first inning with a triple. Tyler Tokunaga scored Kealoha from third base with an RBI triple. Next batter Chevas Numata walked. Troy Barboza Scanlan came to the plate with runners on first and third and teed off with a 3-run homer to left-center field. The Chargers took a quick 4-1 lead.
In the bottom of the third inning, Pearl City poured it on, scoring seven runs to take a commanding 11-1 lead. Tanner Tokunaga smacked a 2 RBI triple with two outs to put the Chargers up 6-1. Roosevelt made a pitching change bringing in #6 Yuki Wada in relief of Brandon Ikeda. Next batter Kai Kealoha greeted Ikeda with an RBI triple that drove in Tokunaga from third. Tyler Tokunaga got hit by a pitch and took first base. Chevas Numata followed with an RBI single scoring Kealoha from third and pushing Tokunaga to third base. Troy Barboza Scanlan hit an RBI double that scored Tokunaga from third. Pearl City had runners on first and third with two outs. Sheldon Milan hit an RBI single to put the Chargers up 10-1. Next batter Austin Boloson drilled an RBI double to increase the Chargers lead to 11-1.
In the top of the fourth inning, Roosevelt's Tyris Tominaga hit a towering 2-run home run to center field to close the deficit to 11-3.
Pearl City's Isaac Shim ran in to trouble on the mound in the top of the fifth inning and was relieved by Tanner Tokunaga. Shim left the ball game after pitching 5 and 1/3 innings.
Pearl City added a run in the bottom of the fifth inning and Roosevelt scored twice off of Tokunag in the top of the sixth inning to end all scoring.
Roosevelt was eliminated from the OIA Championship Tournament with the loss to Pearl City and does not qualify for the HHSAA State Tournament.
W – Isaac Shim
L – Brandon Ikeda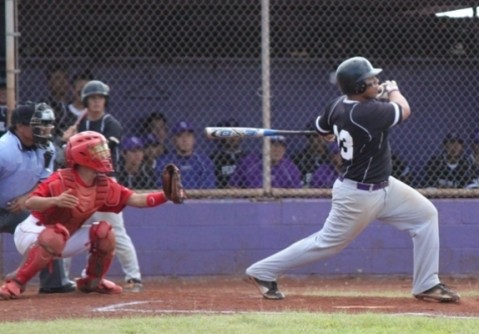 Photo by Barry Villamil | barry@mypearlcity.com
Troy Barboza Scanlan pictured hitting a first inning 3-run home run.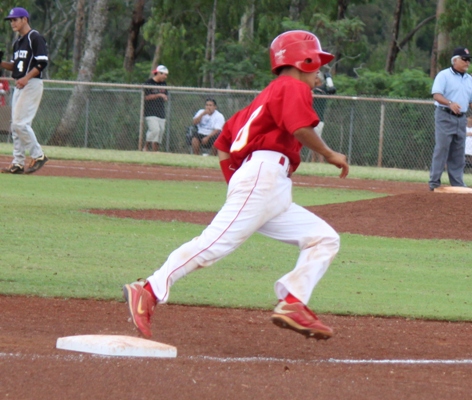 Photo by Barry Villamil | barry@mypearlcity.com
Roosevelt slugger, Tyris Tominaga rounds third base after hitting a home run in the top of the fourth inning.