The Pearl City Chargers baseball team moved one step closer yesterday to accomplishing their mission of winning a 5th Oahu Interscholastic Association (OIA) Red Division Baseball Championship in a row with a 7-6 semifinal win over Kailua at the Surfriders Stadium.
Pearl City (10-4) will meet Moanalua (12-1-1) for the OIA Championship today at Central Oahu Regional Park. Game time is set for 6:30pm and will be broadcasted live on Oceanic Cable Television's OC-16.
The Chargers came out swinging on Friday putting up six runs on the scoreboard in the first two innings. In the top of the first inning the Chargers scored on an RBI single by Troy Barboza Scanlan with one out that drove in Tyler Tokunaga from third base.
In the bottom of the first inning Kailua attempted to score on a drive by #15 Kila Zuttermeister that sent #7 Ryan McMonigle around third base with the green light and shot at home plate. McMonigle was tagged out by Pearl City catcher Isaac Shim.
Photo by Barry Villamil | barry@mypearlcity.com
Kailua's #7 Ryan McMonigle is tagged out by #12 Isaac Shim at home plate in the first inning.
Pearl City bats opened it up in the top of the second inning highlighted by Tyler Tokunaga's RBI double and Chevas Numata's 3-run home run. The Chargers led 6-1 going into the bottom of the second inning.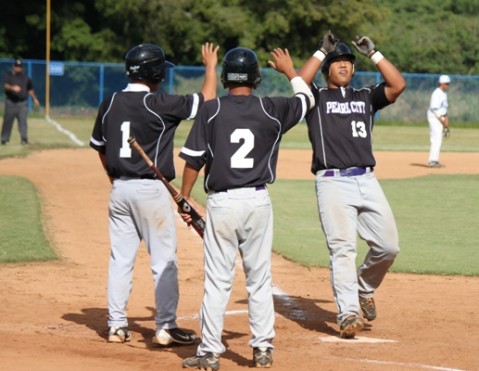 Photo by Barry Villamil | barry@mypearlcity.com
Chevas Numata pictured crossing home plate after hitting a 3-run home run in the top of the second inning off of Surfrider starting pitcher, Jake Cobb Adams.
Kailua scored in the bottom of the second inning on a pass ball at home plate that brought in Alan Baldwin from third base. Pearl City led Kailua 6-1 after two complete innings.
In the bottom of the fourth inning, Kailua put together a 3 run rally that started with a 2-run home run by #30 Eli Davidann off of Pearl City starting pitcher Tyler Tokunaga. Kailua added another home run from #1 Alika Ramseyer Ho over the right field fence. The Surfriders trailed the Chargers 6-4 after four complete innings.
Kailua's #15 Kila Zuttermeister tied the score at 6-6 in the bottom of the fifth inning with a 2-run home run blast over the right field fence. Pearl City made a pitching change bringing in #9 Sean Milan in relief of Tyler Tokunaga. Tokunaga 4 and 1/3 innings.
In the top of the sixth inning, Pearl City had bases loaded when Kailua relief pitcher # 7 Ryan McMonigle walked Troy Barboza Scanlan bringing in Tanner Tokunaga from third base for the go ahead run.
Pearl City brought in Chevas Numata in the bottom of the seventh inning to close it out for the Chargers. Kailua made a run at winning the ball game putting a base runner on first base due to a throwing error by Tyler Tokunaga to first base from his shortstop position. The runner advanced to second on a ground out.
Next batter smashed a drive to right field that was run down by Chargers right fielder, Kory Nakamura for out number two. Pearl City would get the next batter out to end the game. Kailua left a runner in scoring position from third base.
Nakamura's catch saved the game. What made the catch even more incredible was the fact that Nakamura had to climb a hill to get to the ball. The Kailua outfield terrain has an incline that outfielders must traverse in order to run down balls near the fence.
"I was tracking it and then I felt the hill. I had trouble with it all game but good things happen. Whoever invented that hill, I don't know man," said Nakamura.
It was a great play that helped the Chargers come away with a 7-6 win over Kailua and another trip and opportunity to win their 5th OIA Championship in a row with a group of veterans that know how to play and win together. Friday's victory over 2011 OIA Red Eastern Division Champion, Kailua was an example of their "play hard to the last out" mentality.
"I love this group of guys," said Pearl City catcher, Isaac Shim. "It feels great to be with them. Hopefully we can pull it off this year again. We stuck together and played "Pearl City bal"l and we pulled it off. Hopefully tomorrow if we play hard like that, we should be fine."
"It feels great but this feels extra special now because how close the game was and how we pulled it off as team," said Pearl City third baseman, Troy Barboza Scanlan. "We always know that Kailua has good bats. They came back with three home runs, but we knew that we couldn't let up so we just put one on the board and played tough "D" in the last inning."
"They battled and never gave up. I'm excited for them. They proved that they deserve to be there. Hopefully they show up and have a good game like today," said Chargers Head Coach, Mitch Yamato
Whatever the outcome of today's championship game with Moanalua, the Chargers have put together another outstanding season with a group of players and coaches that know how to work together. They've been trained to overcome the challenges the game of baseball presents as well as those challenges they will face beyond the diamond.
Go Chargers!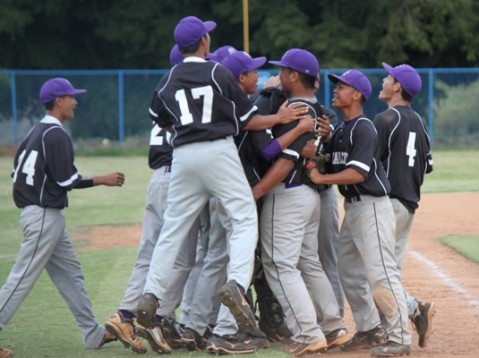 Photo by Barry Villamil | barry@mypearlcity.com