The Moanalua Na Menehune baseball team captured the 2011 Oahu Interscholastic Association Red Division Baseball Championship on Saturday with a come from behind, 4-3 victory over four time defending OIA champion Pearl City at Patsy Mink Central Oahu Regional Park in Waipio.
The win came with heavy hearts as the team dedicated their season and OIA Championship to former teammate Zachery Manago who was killed in an accident in December of 2010.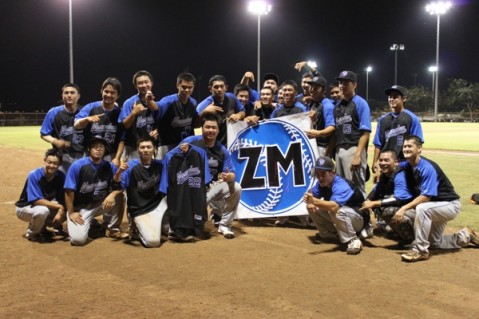 Photo by Barry Villamil | [email protected]
The 2011 OIA Champions pictured holding a banner dedicated to Zachery Manago. Moanalua pitcher Regan Lum holds Zach's #22 jersey in honor of their fallen former teammate.

Pearl City took an early1-0 lead against Moanalua after Kai Kealoha led off the top of the first inning with a triple and scored on a groundout by Tyler Tokunaga.
In the top of the fifth inning, Pearl City made it 2-0 after Kealoha got on base with a single and stole second base to move into scoring position. Tyler Tokunga ripped a double to center field scoring Kealoha. Moanalua made a pitching change replacing starter Regan Lum with Kamalu Kamoku. Lum pitched 4 1/3 innings.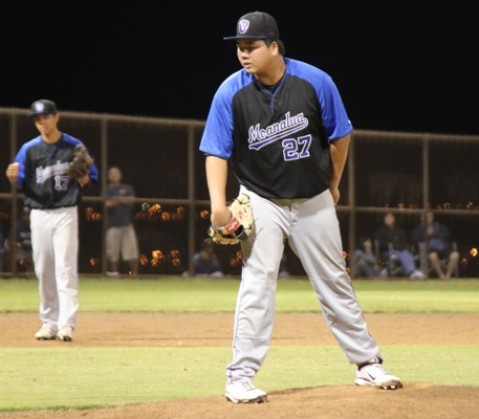 Photo by Barry Villamil | [email protected]
Moanalua starting pitcher Regan Lum tossed 4 1/3 innings for the Na Menehune.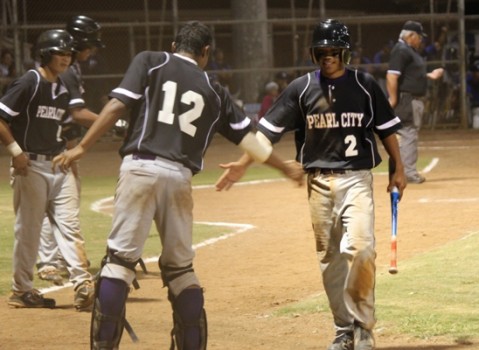 Photo by Barry Villamil | [email protected]
#2 Kai Kealoha being congratulated by #12 Isaac Shim after scoring the Chargers second run off of Tyler Tokunaga's RBI double in the top of the fifth inning.

Pearl City was cruising along with five and 1/2 innings in the books and starting pitcher Chevas Numata totally dominating Na Menehune batters. Numata had a 2-0 lead and entering the bottom of the sixth inning when the Na Menehune bats came alive. #33 James Higa hit an RBI single to put Moanlua on the scoreboard.
The Na Menehune went ahead 3-2 on a 2-run double by Miles Higa, the No. 9 batter in the line up, that went down the left field line with bases loaded. Pearl City made a pitching change bringing in Sean Milan in relief of Numata. Moanalua added another run on a squeeze play with Michael Egami at bat that scored Jordan DePonte from third base. Moanalua led 4-3 going to the top of the seventh inning.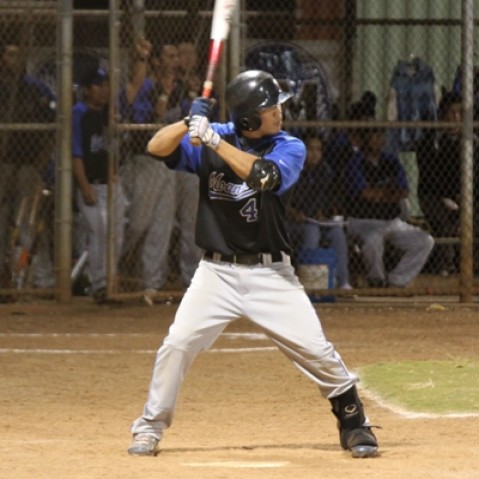 Photo by Barry Villamil | [email protected]
Moanalua's #4 Miles Higa struggled at the plate early against Pearl City's Chevas Numata but came through in the bottom of sixth inning with 2-run double that put the Na Menehune up 3-2 over the Chargers.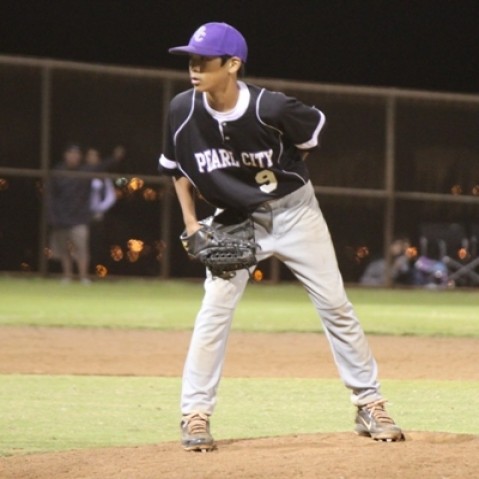 Photo by Barry Villamil | [email protected]
Pearl City's #9 Sean Milan came in relief of Chevas Numata in the top of the sixth inning with one out.

In the top of the seventh inning, Pearl City had Kyle Tom on second base and Tanner Tokunaga on first base with no outs. Tom was gunned down at second base by Moanalua catcher Brandon Kong. Kamalu Kamoku walks the next batter, Kai Kealoha, putting runners once again on first and second base. Moanalua makes a pitching change, turning to #17 Jordan DePonte for the final two outs.
DePonte walked Tyler Tokunaga which loaded the bases. Chevas Numata hit a sacrifice fly ball to deep center field scoring Tanner Tokunaga from third base. The Chargers trailed 4-3 and were down to their last out. DePonte got Troy Barboza Scanlan to ground out for the final out and win the 2011 OIA Championship Title.
This is the first OIA Championship for the Moanalua Na Menehune varsity baseball program. Moanalua snapped Pearl City's streak of four OIA Championships in a row. Both teams make their way to the HHSSA State Baseball Championships scheduled for next week at Murakami Stadium on the campus of the University of Hawaii.
"Words cannot explain everything," said Na Menehune Head Coach, Scott Yamada. "This whole school has waited so long for a OIA title. We got the bye in the first round in the state tournament which is good."
"I would like to say thank you for all the support from everyone for believing in us and these kids," said Yamada.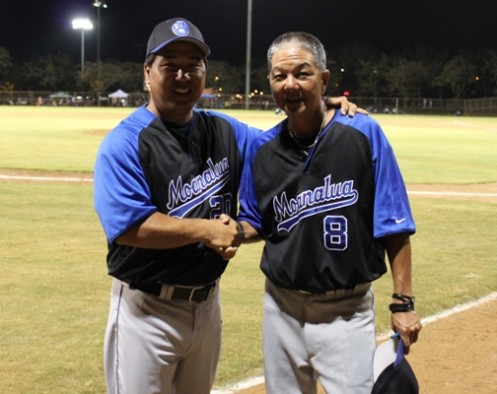 Photo by Barry Villamil | [email protected]
Moanalua assistant coach, Kelsey Isa (left) pictured with head coach, Scott Yamada.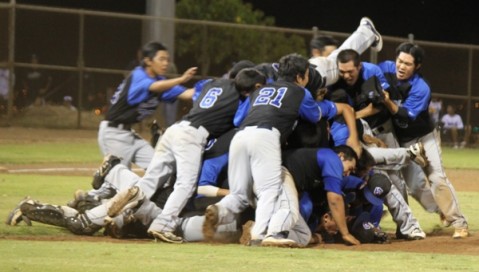 Photo by Barry Villamil | [email protected]
Newly crowned, 2011 OIA Champions from Moanalua High School enjoying the moment!

@ Central Oahu Regional Park
Pearl City (10-5) 1 0 0 0 1 0 1 3 4 1
Moanalua (13-1) 0 0 0 0 0 4 X 4 6 0
W – Kamalu Kamoku
L – Chevas Numata