The Pearl City Chargers are one win away from winning their first state championship title after defeating a tough Kailua Surfriders ball club 13-10 in the semifinals of the HHSAA State Division I Baseball Championship Tournament on Friday at Les Murakami Stadium.
Pearl City (13-5) will meet Moanalua (15-1-1) at 7:00pm on Saturday at Les Murakami Stadium for the championship. Moanalua reached the title game after defeating the Baldwin Bears from Maui 4-3 in the other semifinal match up on Friday.
In what's being billed "OIA West verses OIA East II", both Pearl City and Moanalua will be battling it out for another championship with this match up carrying the distinction of being state champs. Moanalua defeated Pearl City 4-3 for the OIA Red Division Championship on April 23. 2011.
On Friday, the Chargers got a gutty performance from starting pitcher Sean Milan against Kailua as the sophomore hurler entered the fifth inning sitting on a no hitter before being relieved by Tanner Tokunaga after giving up for 5 runs and 3 hits.
"We asked the sophomore to keep us in the game and asked him for four and he gave us pretty much five innings," said Chargers head coach, Mitch Yamato. "He no hit Kailua for four complete innings."
"He was really focused and he was throwing strikes and that's all we needed him to do," said Chargers starting catcher, Issac Shim on Milan's performance.
The Chargers had built up a 7-0 lead entering the fifth inning before Kailua exploded in the bottom of the inning with seven runs to tie the ball game. Tanner Tokunaga who replaced Milan on the mound in the ffith inning, gave up 2 runs on a couple errors by Scanlan at third base. Numata relieved Tokunaga with 1 out in the inning.
Pearl City responded in the top of the sixth on Scanlan's RBI single that drove in Numata from third base and broke a 7-7 tie.
In the top of the seventh, the Chargers put up 5 runs on Kailua with 4 runs coming off Numata's grand slam to left center. The Chargers led 13-7 entering the bottom of the seventh inning.
Kailua gave it one last shot in the seventh, scoring 3 runs on Eli Davidann's in the park homerun to right field off of Numata with 2 outs. Numata got Corey Louis-Soares to fly out to right field for the games final out.
The Chargers will need another solid performance from their starter in tonight's championship match up with Moanalua. MyPearlCity.com asked head coach Yamato about who may get the start for the championship?
"I believe Chevas can go again. Isaac(Shim) can come back and Tyler (Tokunaga) can go and we have a couple other guys, so we should be alright," Yamato said.
Numata looked good on the mound on Friday, mixing his pitches, throwing his fastball and catching Kailua batters off guard with a very effective offspeed pitch.
"It felt super good, I'm happy for my team," said Numata. "I haven't thrown for a long time so my arm was fresh today."
The Chargers got another productive perfomance at the plate from Scanlan who went 2-4 with 3-RBI which included the go ahead run in the sixth inning.
"It was a really tough game and I guess I pulled through at the right time and I just want to thank all my teammates for always believing in me and all my coaches for getting me prepared for this game," said Scanlan. "Today's win feels good because the inning before I had two errors and that evened it out I guess. It really brought back the team."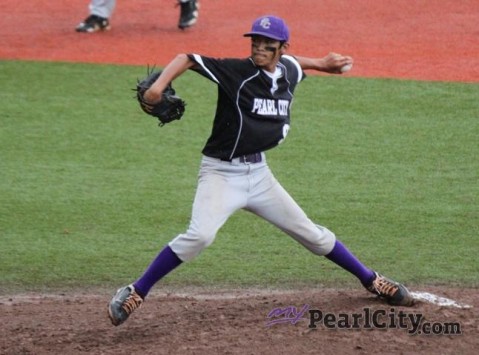 Photo by Barry Villamil | barry@mypearlcity.com
Pearl City's, Sean Milan on the mound for Pearl City against Kailua on Friday.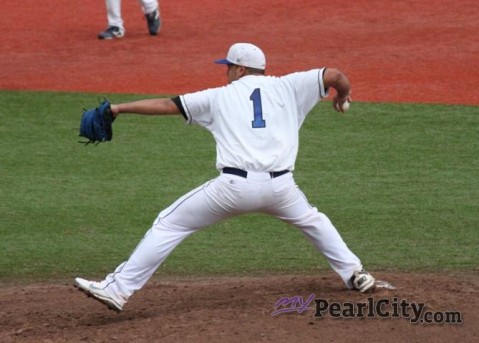 Photo by Barry Villamil | barry@mypearlcity.com
Kailua's, Alika Ramseyer-Ho started the game on the mound for the Surfriders, allowing 4 hits and 6 runs in 3 innings of work against Pearl City.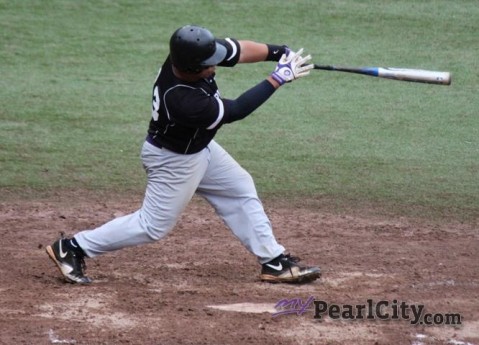 Photo by Barry Villamil | barry@mypearlcity.com
#23 Troy Barboza Scanlan was productive at the plate against Kailua hitting 2-4 with 3-RBI which included a 6th inning RBI single to left field that scored Chevas Numata from third base to break a 7-7 tie.

Photo by Barry Villamil | barry@mypearlcity.com
#13 Chevas Numata pitched 2 2/3 innings in relief against Kailua allowing 3 hits and 3 runs to close it out for the Chargers.

@ Les Murakami Stadium
R H E
Pearl City (13-5) 004 301 5 – 13 11 2
Kailua (15-2-1) 000 070 3 – 10 7 2
W – Numata
L – McMonigle
Pearl City leading hitters:

Numata, Chevas 2-4, 4 RBI, 3 runs; Scanlan, Troy Barboza 2-4, 3 RBI; Tokunaga, Tyler 1-4, 3 RBI, 2 runs; Tokunaga, Tanner 2-3, 2 runs; Shim, Isaac 2-2, 1 run.
Kailua leading hitters:
Ramseyer-Ho, Alika 1-3, 2 RBI; Zuttermeister, Kila 2-4, 1 RBI; Davidann, Elijah 1-2, 2 runs; Baldwin, Alan 1-3, 2 runs.