Momilani Elementary school transformed the school's cafeteria into Sugaku Dojo on Wednesday for the third grade performance of the "MATH MASTERS".
Written and directed by Momilani Elementary third grade teacher Mr. Masaru Uchino, the original drama, MATH MASTERS tells the story of two students, Max and Sammy who are having a hard time getting into the subject of math. Their parents, without their knowledge, signed them up for lessons at Sukagu Dojo led by old Master Sugaku.
Sugaku Dojo is a training center for students to become math masters. Master Sugaku, along with math master colored belts, ninja and samurai, teach Max and Sammy how to master the art of math.
The MATH MASTERS third grade cast were delightful under the direction of Mr. Uchino who also served as music and choreographer director. Mr. Uchino also had a cameo role as Max and Sammy's math teacher in the drama.
A special treat that truly added to the night's wonderful success was the participation of Mr. Robin Kitsu and his award winning crew from the Nanakuli Performing Arts Center that helped out with video, sound and DVD production.
A special mahalo to Momilani Elementary School Principal, Mrs. Doreen Higa and the school's Hui O Momilani PTSO for their endless support of the Momilani Drama Program.
It was a great night. Congratulations to Mr. Uchino, Assistant Director Leona Uyesato, and the Momilani third grade cast for a terrific performance.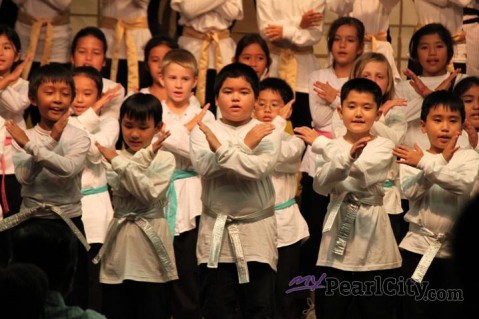 Photo by Barry Villamil | barry@mypearlcity.com
Sugaku Dojo, Aqua colored belt Math Masters performed by Momilani Elementary School third graders pictured on stage on Wednesday.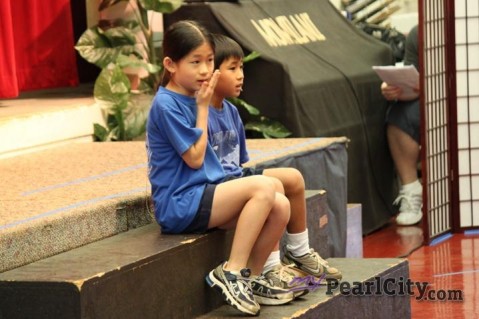 Photo by Barry Villamil | barry@mypearlcity.com
MATH MASTERS lead characters Sammy (left) and Max (right) performing to the song " We Hate Math".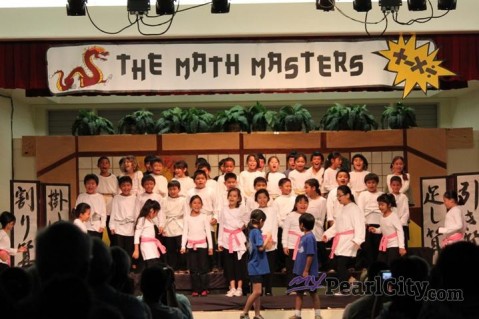 Photo by Barry Villamil | barry@mypearlcity.com
Sammy and Max learning to appreciate and master the art of math.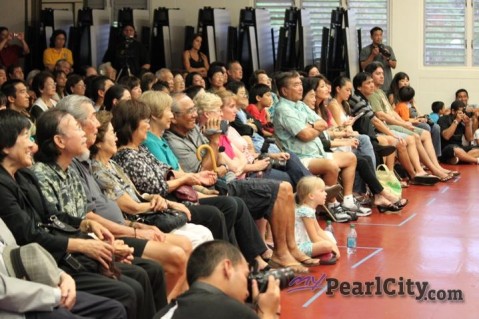 Photo by Barry Villamil | barry@mypearlcity.com
Momilani Elementary School parents, grandparents, family and friends enjoying the night's performance on Wednesday.