Written by Vicky M. Bowie:
Pearl City Public Library is having its annual Summer Reading Program from May 31-July 8. Simply register at our library and earn weekly rewards just for reading.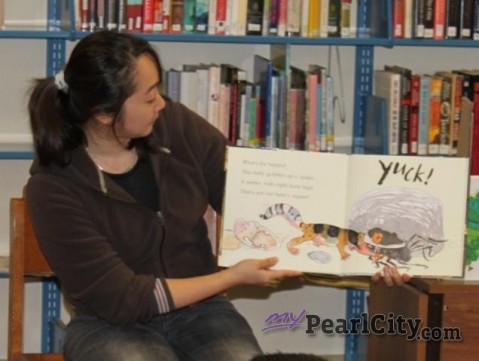 Photo by Barry Villamil | barry@mypearlcity.com
Our themes this year are "One World, Many Stories" for the Children's Summer Reading Program (birth to incoming 6th graders), "You Are Here" for the Teen Summer Reading Program (incoming 7th graders to 12th graders), and "Novel Destinations" for the Adult Summer Reading Program (ages 18+).
Those who register at our library also have the chance to enter drawings to win bookstore gift cards and other great prizes.
Each week there are special performances:
Children's Programs every week @ 1pm-2pm
Monday, June 6: Rainbow Pigeons
Learn about pigeon care from Doug Beter and watch them soar into the sky
Monday, June 13: Sing Along with Uncle Wayne
Keiki ages 3-5 will enjoy singing along with Uncle Wayne.
Monday, June 20: Magic Show with Balloon Monsoon
Let Balloon Monsoon captivate you with their magic show and balloons to take home.
Monday, June 27: Book Time with Ronald McDonald
Have fun with our favorite clown as he entertains and teaches us about the importance of reading.
Tuesday, July 5: The Bubble Show with Aloha Clowns
Watch a fun, interactive and educational show filled with bubbles of all sizes.
The library will have Storytime for ages 2-5 every Wednesday from June 1-July 6 from 9:30am to 10am. Enjoy stories, rhymes and other activities.
Sunday, July 10 at 1pm
"Novel Destinations: There's the Door?"
In the style of their earlier Kumu Kahua shows "Growing Up Hyphened in America," and "Life Staged," Storytellers Neal Milner, Dann Seki, and Nyla Fujii-Babb continue a humorous and poignant examination of the struggle to answer life's BIG questions in original stories. "Who am I?" "Why am I?" "Where am I?" "How did I get here?" "What's next?" "Why do I feel so alone?" "Why don't people leave me alone?" And as Peggy Lee sang, "Is that all there is?" They will be joined by Musician "Gentleman" Jeffry Stephen Babb who will open with a sing-along of oldies but goodies!
Thank you,
Vicky M. Bowie
Branch Manager
Pearl City Public Library
1138 Waimano Home Rd.
Pearl City, HI 96782
(808) 453-6566