When you think of an individual being awarded a medal for serving his or her country while at war, it comes from an act of bravery while on the battlefield. An act of bravery, that saved the lives of comrades.
Army Captain Danelle Miyamoto of Pearl City recently received the Bronze Star for service to her country while being deployed in both Iraq and Afghanistan. Captain Miyamoto was recognized for her excellence in leadership while deploying and redeploying the unit for the 62nd Medical Brigade out of Fort Lewis, Washington.
Since joining the Army in 2004, Captain Miyamoto has been deployed three times to the Middle East. As a medical service officer and Deputy in civil affairs, she has worked with the people of Iraq and Afghanistan through the Army's humanitarian efforts that have brought much needed supplies and training to the region.
Miyamoto and the soldiers under her command, risked their lives "outside the wire" to bring aid that not only saved lives, but brought hope to the people in desperate need due to the consequences of war.
As the son of a United States Marine Corps war veteran, I have met many men that have been awarded medals for bravery from different conflicts. One thing that was common amongst them was their humbleness and their wish to give credit to the men and women that served along side of them.
Captain Miyamoto fits the mold. About two weeks ago, her father, Alan Miyamoto sent me an e-mail telling me about his daughter's extraordinary story. He's a proud dad that wanted me to know about his daughter being awarded the Bronze Star. He mentioned that she never said a word about it until she recently returned home for vacation from Fort Lewis in Washington. Not a word until she told him that she had a present for him and to go ahead and open it. To his surprise, there it was, the Bronze Star. Wow!
He helped me arrange the following interview and I have to say that it was truly an honor to sit down and document a portion of Captain Miyamoto's life that has made a difference in the lives of men, women and children half way around the world while serving her country.
One thing is for sure, she's a Pearl City girl and proud of it. Her hometown, family and friends mean everything to her and stay's in contact while away in the Military.
She is also a former state high school wrestling champion, a black belt in Karate, a brown belt in Judo and trains with MMA fighters. I guess you can say she can take care of herself.
Congratulations to Captain Danelle Miyamoto for being awarded the Bronze Star!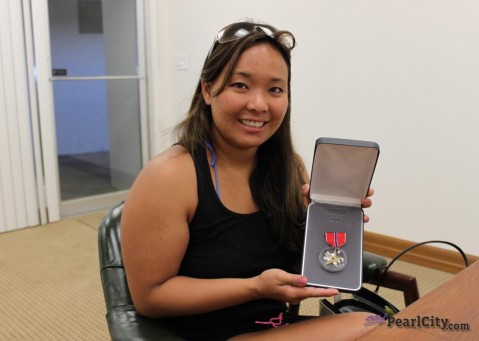 Photo by Barry Villamil | barry@mypearlcity.com
Captain Danelle Miyamoto pictured with her Bronze Star Medal.

Q: Your Military career started with the ROTC program while in college?
A: I joined the military back in 2004. I did the two year ROTC program out of Oregon State. Instead of doing the four years, I just did the two year program because I had to do an internship. You need a paid internship to finish school so I went to the military and they had a paid internship that turned out to be basic training.
Q: How well did you do in the ROTC program?
A: Well, I joined over there and I did okay and I got awarded a scholarship. I ranked in the top three of my class so I got my choice of branch, duty station and if I wanted active duty, inactive reserves or reserves. I chose active duty to get more experience if I ever decided to go the reserves.
Q: You were able to choose the branch of service and duty station?
A: Yes, I did that back in 2004. I've been stationed at Fort Lewis, Washington ever since.
Q: Have all of your deployments originated while stationed at Fort Lewis?
A: I've had two deployments out of there, two with my HHC Element, Headquarters & Headquarters Company which I am the Commander of now. The other one was my first unit which was an area support medical company.
Q: Where have you been deployed?
A: Camp Taji, Iraq, Camp Victory which is in Baghdad, Iraq and this one was Bahgran in Afghanistan.
Q: What was it like with regard to your first experience as a young officer being deployed to Iraq in the Middle East?
A: I got deployed right out of officer basic course, I was scared. I remember driving the day before I had to deploy and I was just like crying because I was looking at my arms and my legs and I was thinking, okay? It was because of all the stories you hear but it was a real good experience. I almost didn't want to leave Iraq the first time. I went because I made so many good friends and the mission we had was great. Treating all the people, you save a lot of lives. They had babies that would come in because we were right by the gate. That was always good.
Q: Can you describe the environment in Iraq?
A: I got a chance to travel around and see Iraq. It's a really beautiful country. If it wasn't for the war it would be a great place to vacation. It's very historical. Up north is green and it's so lush, the vegetation is awesome. There are these huge buildings that are made out of marble. It's amazing. It's really beautiful. The parts we see are the war and a lot of the country lives in poverty.
Q: Did you the have the same type of experience in Afghanistan?
A: In Afghanistan it's the same thing, it's beautiful. A lot of it is just mountainous terrain but the mountains would make a great ski resort (laugh). The Afghanistan people farm a lot so that's their main source of income. They're trying to get them to grow soy and things like that. The people are real nice. They really want change. It's just a small amount of people that we see on the news that is causing all the issues.
Q: What is your current job title?
A: I'm a medical service officer, but my position right now is a company Commander for my headquarters. It's a brigade headquarters. My Commander is a full bird and he's in charge of the entire brigade which has a combat support hospital that has all the doctors. We also have the multi functional medical battalion which serves as another headquarters for all the smaller units like the area support medical companies or preventive med and services like that.
Since my Commander is in charge of all that, my main job is to take care of all the soldiers, particularly in his unit, which is the headquarters with about a hundred people which includes his primary staff and all the subject matter experts.
Q: How long is your command at Fort Lewis?
A: I'll be in command until maybe July. Usually you take command for eighteen months but I already hit my two years. July will be thirty months already so it's been kind of long. They want to give other people a chance.
Q: What's next after July?
A: I'll go to school. Captain's career course. Hopefully come back to Hawaii. I'm trying to get stationed here at Schofield or Tripler.
Q: Have you decided to make it a career in the military?
A: It might be. I only intended to do like four years and then its three years later after the four so maybe a career, but people always tell me you'll know when its time to get out. Right now I don't feel like its time to get out. I'm still having fun. I'm learning and serving my country. It's a good purpose. I feel I can do a lot, learn a lot and have better appreciation for life.
Q: How were you selected to receive the Bronze Star?
A: It was different from all my other awards before like Army accommodation medals. Usually, when you're an officer, you don't really get too many medals so I got it for service in Iraq and Afghanistan. For the Bronze Star itself, my job particularly was to deploy the unit and redeploy the unit for the 62nd Medical Brigade out of Fort Lewis.
My prior deployment I was working in the civil affairs arena. Even though I wasn't trained to do so, I learned from the best guy. He taught me everything. I was doing civil affairs and we worked a lot with the Iraqis. I was the Deputy and his second in command. We would go outside the wire all the time and do all kinds of stuff.
Q: So you served double duty as a Medical Service Officer and Deputy in Civil Affairs?
A: This time because I did that, and they didn't have a civil affairs person because we were short on our deployment roster, I asked them if I can do both. Usually when you're a Commander you just command, but I asked them, and they asked if I was sure I wanted to do that? I told them I can do it. They had somebody who was leaving, but they didn't have the replacement, so they put me as the Egyptian Liaison Officer.
Q: Did you work directly with Egyptian government?
A: I was working with the Egyptian Army. They have a treatment facility on Bahgran where they open the doors and they let the Afghan people come in and they treat them. These guys come from all over, from south, north, from everywhere. They come from hundreds of miles to get treated.
It's a real good, goodwill mission and the way they make it work is they also train. They have their nurses there and they train Muslim women and men on how to take care of baby, hygiene and all this kind of stuff. They have surgical capabilities and it's great. They showed me this one where they removed a tumor that was about ten pounds from this woman's uterus and she was fine afterwards and they did it right there.
It's a real good partnership with the hospital, the U.S. Forces and the Egyptians. We have real good relationship with the Egyptians, Jordanians and Koreans. Those are the different hospitals.
Q: What were you responsible for as the Egyptian Liaison Officer?
A: A lot my time was spent with the Egyptians trying to teach them because you do everything from like logistics, getting water, helping them with the medical supplies, finding stuff and getting them certified. So you're constantly talking with them and helping out.
Q: Do you keep in contact with them?
A: I still keep in contact with them. I want to go and visit Egypt. They are real good friends. A lot of them were medical. The guy I was working with was field artillery. Their Commander was an Airborne Ranger equivalent. They were awesome and always willing to help. They treated about 250 people per day and they did their own security.
I would help them out working with the base to do security assessments. We would walk outside and check and see how we can improve security working with their security.
Q: Did your role as a deliverer of humanitarian aid to the people help ease the fighting in the area?
A: We helped make a lot of improvements and helped them have a better quality of life by getting them supplies they needed so they can help the people. Our work really helped the area. That area used to have a lot of attacks. Since they started helping, they stopped the attacking because the medical is non kinetic, it's not fighting so you can go out and do goodwill missions and help them. The civil affairs portion of that is that you train them to be self sufficient, to believe in their country.
Q: What was your scariest situation while deployed in the Middle East?
A: I always do stupid stuff on my deployments. On my first deployment, we were convoying and I guess maybe there was Intel or we got lost or something, but we were driving and all of sudden there was a boom! We were in a Stryker and an RPG hit but it bounced off because of the railing. That was pretty scary stuff because we were sleeping in the back and we heard boom! and we were wondering what is that? We looked and saw the road all trashed.
Also on the second deployment, they had the dining facility that was across the street when I was at Key West which is more west in Iraq, but I said that's the closest way to get to the dining facility, so me and my soldiers walked across and found out that it was mine field. A week later it was unexploded ordinance. We were just la, la, la, la because they never had it blocked off. It's just stuff like that. You know, it's like "thanks eh God!"
Q: Strangest thing you ever witnessed while deployed?
A: You now how everyone has the mud huts, right? Nice mud hut, but then you would see these modern windows in the mud hut. I was like, ho, that was kind a cool!
Also, you see like dogs out there, sheep and everything, but then you see the people walking and it's a mine field out there too. So we have our base, and then there's a mine field inside and also a mine field outside, but their just walking. Just chancing um!
Q: Credit has to go out to those who spend time outside the wire?
A: My hat still goes off to people that are outside the wire everyday. We had it easy where even though we were working the strategic stuff, go outside little bit, but because of the position we don't go outside everyday.
Q: Anybody that you would like to thank for helping you get to where you are in the Military today?
A: Colonel Jeff Brian really directed me to follow what I wanted to do. He still keeps in contact with me even though he's not in my branch, he really mentors me. He's an outstanding guy.
My current boss, Colonel Rich Philips is very supportive of me. He's been in for over 26 years. His son is a West Point grad and now he's going to Iraq. Colonel Philips is very compassionate and that's what I look for too. You see these people that are high ranking yet they are still compassionate. They really have Aloha.
My First Sergeant, Marsha Oliver is a Hawaii girl who graduated from Moanalua High School. She's been in nineteen years and is a real strong woman with a very good heart. It's hard to find strong women in the Military but she's very strong, very inspirational.
Another mahalo goes out to Sergeant Major Eric Marquez. He's the one who helped me get into the ROTC program and all the way up.
But the guy who actually got me into the program was Brad Shimatsu from Kauai. He's a Kauai boy. Brad Shimatsu got me into the service. I used to tease him that he was the Army's secret weapon. He's actually stationed in Washington right now. He's one of my oldest friends.
Q: How does it feel to be back home in Pearl City?
A: It feels good. It's a great place. I love it. It will always be my home. It's beautiful. When you go all the way to the top of Kaahumanu Street you can see everything. You can see the Waianae Mountains, you can see Pearl Harbor and town. Everything is so pretty.
Q: How about life growing up in Pearl City?
A: It was good. We moved here when I was five. We were living Ewa Beach side. My whole life all I know is Pearl City. Good location, good people. All the neighbors we had were real good fun.
Q: You attended Hawaii Baptist Academy and had a very successful wrestling career?
A: Wrestling was my main sport. My second year they had an unofficial Girls State Title so I won for my division at 103 lbs. The next year, they had the official State's and I got second place and the next year I placed first in the State's.
Q: Do you keep in touch with anyone that you grew up with?
A: Oh yah, I still keep in touch with a lot of my wrestling buddies' like my friend Jill. We grew up together. From ninth grade we were like the only ones in the ILH that did wrestling camps all through our four years. We're still good friends. Some of the guys from our wrestling team are my best friends that I still keep in touch with.
Q: How about the support you receive from your family?
A: My family is real tight. They always support me, even if I call them in the middle of the night, which I don't do too much anymore. Its like, "ho mom, I'm scared", and they'll talk to me for awhile.
The support is real good. My dad, especially with the church, he has them pray for my soldiers and me and that really helps knowing that he's always got my back. My mom too, she's like the quiet one when dad is all worried, she is like "eh, never mind, let her do this." It's a good balance with them. The family dynamics is real tight. They keep me grounded.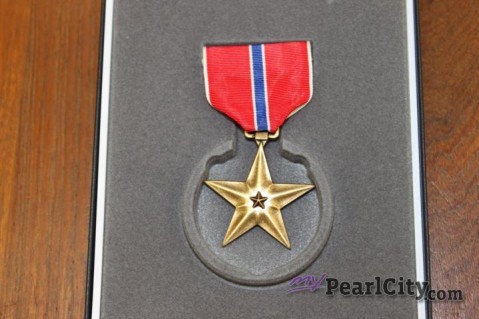 Photo by Barry Villamil | barry@mypearlcity.com