The Pearl City Foundation (PCF) is holding a community meeting on Thursday, June 2, 2011, 7:00pm at the Momilani Community Center (MCC) to discuss plans for a future dog park on the MCC grounds.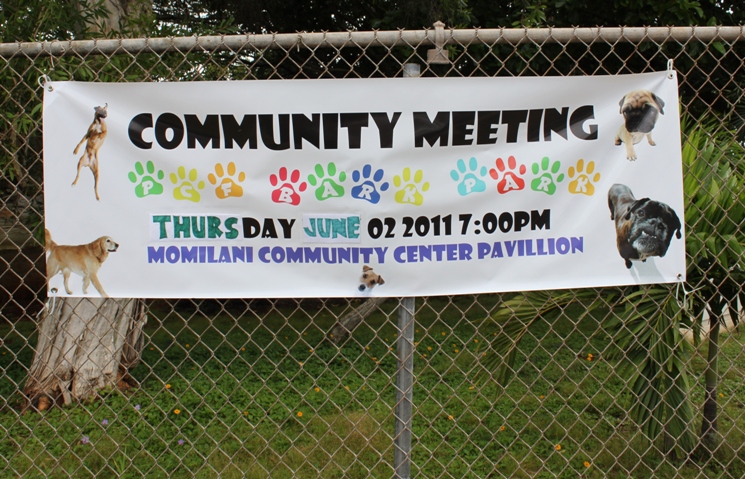 Photo by Barry Villamil | barry@mypearlcity
The official name for the dog park is the PCF Bark Park and if you're a dog owner, the park is going to be a fun, safe place for your pet to play and socialize.
In order for the Bark Park to become a reality and a success, the PCF is asking the community to attend the June 2 meeting to learn more and to get involved. You might even consider signing up as a volunteer park ranger.
PCF volunteers have spent the last three weekends at Petco in Pearl City passing out information to inform the public of their plans to open the Bark Park at the Momilani Community Center.
The PCF Bark Park is planning to open daily from 8am-dusk, except for Monday (open at noon).
For more information or for volunteer inquiries, e-mail: pcfjyoshida@gmail.com
The Momilani Community Center is located in the heart of Pearl City at:
715 Ho'omoana Street,

Pearl City, Hawaii 96782

Tel: (808) 456-2073