Pearl City 76 gas station will be lowering gas prices during the BLEIZN FX Car Cruz at the Pearl City Shopping Center on Sunday, June 5 from 3pm-7pm.
Reduced gas prices will not be announced until June 5, but will offer 76 customers at the Pearl City location significant savings.
"Our past discounts have usually been around 20 cents per gallon," said Eric Baranda, Marketing Coordinator for Mid Pac Petroleum which is a locally owned company that owns the rights to the 76 brand here in Hawaii.
"If you've noticed, currently the gas prices are all over the place. You can see that since last week it was literally a 30 cents drop from what it was prior. So, based on how much the gas prices are fluctuating, we can't really say until the day of how much we're going to drop the gas prices. But again, it's usually significantly lower than what's currently on the market."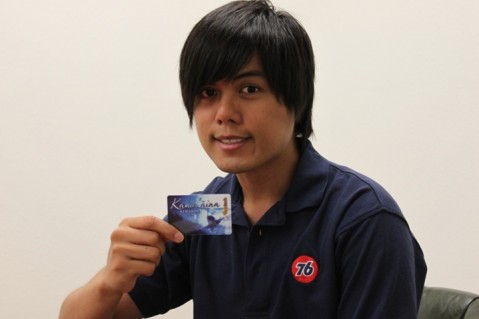 Photo by Barry Villamil | barry@mypearlcity.com
Eric Baranda, Marketing Coordinator for Mid Pac Petroleum holding a Kama'aina Rewards Card.

Mid Pac Petroleum also offers customers savings and discounts through their Kama'aina Rewards Program.
"Basically, the way the Kamaaina Rewards Program works is that at participating vendors, right now 76, you use the Kama'aina Rewards cards to purchase items, in this case gas, and depending on how much you purchase you will accumulate points," Baranda said. "The points you can use to redeem as cash at other locations that participate in the Kama'aina Rewards Program."
Baranda has a solid background and experience with regard to social media, a direction his employer, Mid Pac Petroleum is concentrating their online marketing strategy on. "I did social media and traditional media for a variety of different clients at my previous job," Baranda said. "An opportunity came to work for Mid Pac to do the same thing and was fortunate to offer my services there."
"The Kama'aina Card has been around, but what we've been trying to do is use online media, social media as the means to push it out there and to spread the word. One, because that's the newest thing right now, the newest media and there's a great potential to get the word out using social media. Two, it will give us somewhat of a test to see how well our social media efforts are using the online media. Mid Pac is looking to keep up with the times so they have a very strong interest in social media sector, so they want to expand with the new media like Facebook, Twitter, You Tube, so anything dealing with online media in addition to the traditional media."
Check out more information about Mid Pac Petroleum, Kama'aina Rewards Program and BLEIZN FX Car Cruz at:
http://www.facebook.com/76Hawaii

http://www.kamaainarewards.com/main.shtml

http://twitter.com/#!/76hawaii

HOT RODS, CLASSIC CARS and Discounted 76 GAS!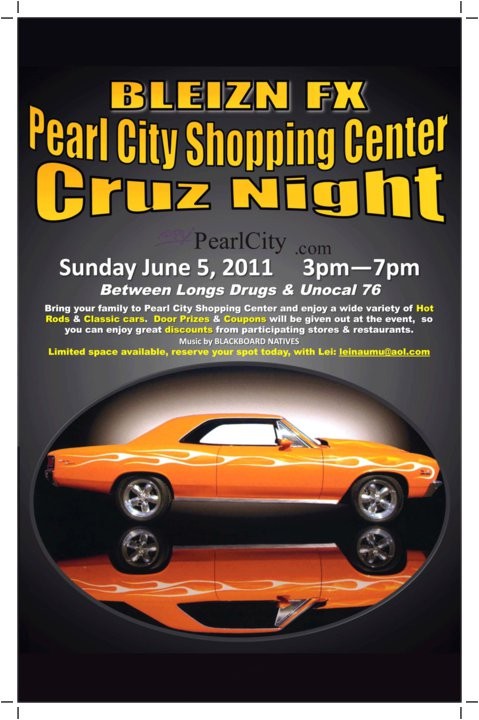 Photo provided by BLEIZN FX Promotions