A Pearl City woman was sentenced to one year probation and community service on Monday for her involvement in the October 12, 2009 fatal pedestrian accident in which the car she was driving struck an Aiea resident in a crosswalk on Kaahele Street near the entrance to the Newtown Recreation Center.
Nancy McCue lost her mother and the grandmother of her children in the accident. As a result of the October 12, 2009 accident, Nancy along with family members and concerned area residents, have joined the coordinated efforts of State Representative K. Mark Takai ((District 34 – Aiea, Pearl City) and the Honolulu Police Department as volunteers for the CTAP (Community Traffic Awareness Program) Project.
CTAP volunteers have conducted five sign waving events on Kaahele Street with the first one held on the one year anniversary of the accident. CTAP's foremost objective is to bring awareness to the problem of speeding on Kaahele Street and existing streets as motorists commute through Pearl City and Aiea.
Monday's no jail time verdict and the decision by the defendant not to make an oral personal apology hit the family hard. Any hopes for closure were gone, for now.
Nancy will continue to support the CTAP sign waving campaign to help make Kaahele Street safe for both motorists and pedestrians. She wanted to share the following letter with MyPearlCity.com readers to express her feelings and to say thank you to those that offered her family support and love since the accident.
This driver was speeding down Ka'ahele Street fronting the Newtown Rec Center when she struck (and killed) my mother in the crosswalk. Two years later, she was sentenced to one year probation and NO jail time. She appeared in court and declined to make an oral statement to our family. We wanted to hear something /anything and quite frankly, an apology would have been at the very least, warranted.
She gets to move on with her life and enjoy her loved ones while my family has to live every day without our mother (and grandmother). The pain and suffering doesn't go away. We have to see that crosswalk every day and be reminded of this preventable tragedy. If this driver has any remorse, she will successfully complete her probation and give us all some closure once and for all. If she doesn't, shame on her and I believe in karma.
Our family would like to express our heartfelt appreciation for the love and support of family and friends during this difficult time. Also a big MAHALO to the Aiea/Pearl City residents who take the time to participate in CTAP by helping to spread the word to drivers to SLOW DOWN, yield to pedestrians and pay attention while driving! Remember, driving is a privilege and your vehicle is a weapon. Please drive responsibly!
Nancy McCue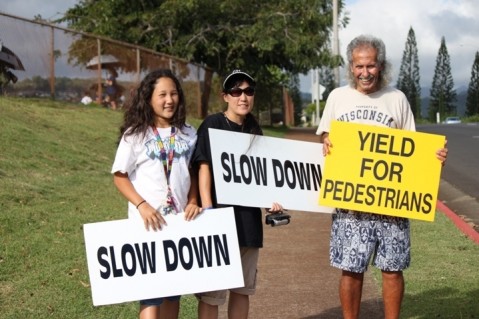 Photo by Barry Villamil | [email protected]
CTAP volunteers pictured during May 24, 2011 sign waving event held on Kaahele Street near the Newtown Recreation Center in Aiea.