Pearl City had no problem moving on in the Hawaii Little League 9 &10 District 7 Championship Tournament with a 19-3 second round win over Waipahu at Patsy Mink Central Oahu Regional Park (CORP) in Waipio on Saturday.
Saturday's win over Waipahu sets up a winners bracket showdown with Waipio on Sunday at 3:00pm at CORP. Waipio dropped Ewa Beach into the losers bracket with a lopsided 13-1 victory that was called after the fourth inning due to the 10-run mercy rule.
Sunday's match up between Pearl City and Waipio puts the winning team in the drivers seat in the double elimination tournament. The winner earns a trip to the championship game set for Wednesday, June 15 and forces the loser to make their way through the losers bracket with the task of winning three in a row for the District 7 Championship.
On Saturday, Pearl City found themselves tied with Waipahu at 2-2 after one complete inning but rallied with three runs in the top of the second inning to take a 5-2 lead. In the top of the second, #4 Mayson Foumai reached first base on a walk. Cole Miyamura came in the game to pinch run for Foumai. Next batter, Chaesten Chon popped out for out number one. Cheyne Obara moved Miyamura to second base on a ground out for out number two. Nohealani Hee lined an RBI double to left field scoring Miyamura from second. Carter Hirano got on base with a single and scored on two Waipahu throwing errors. Both Hee and Hirano scored on the play increasing the Pearl City lead to 5-2. Caleb Young stepped up to the plate and got on base with a single. Waipahu made a pitching change, bringing in Micah Harper from third base to relieve starter Jayden Borja. Zion Tupuola-Fetui jumped on a Harper pitch, hitting a single to right field that advanced Young to second. Next batter grounded out to end the inning.
Pearl City increased their lead to 6-1 in the top of the fourth inning and then exploded with 6 runs in the fifth inning and 7 more runs in the sixth inning. Waipahu got a single run in the bottom of the fifth inning.
Pearl City led Waipahu 19-3 entering the bottom of the sixth inning. Nohealani Hee struck out the first batter in relief before yielding to Carter Hirano who struck out the next two batters to end the game.
Pearl City had a productive day at the plate, pounding out 15 hits against Waipahu pitching. Nohealani Hee led Pearl City with 2 singles, double, triple, 2RBI and 3Runs. Other leading hitters for Pearl City: Chaesten Chon, 1 single, 2 doubles, 2RBI, 2Runs; Caleb Young, 3 singles, 2RBI; Carter Hirano, 2 singles, 2RBI.
In two games played so far in the tournament, Pearl City has outscored their opponents 34-4. Pearl City beat Waialua 15-1 on Friday.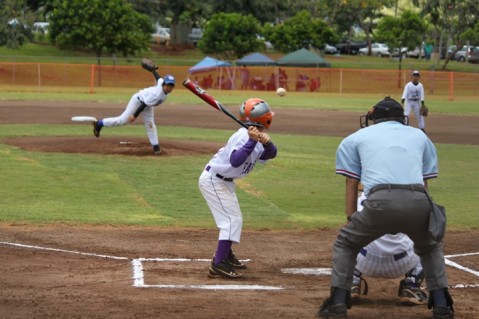 Photo by Barry Villamil | [email protected]
Pearl City's Chasten Chon pictured leading off the top of the first inning against Waipahu's Jayden Borja.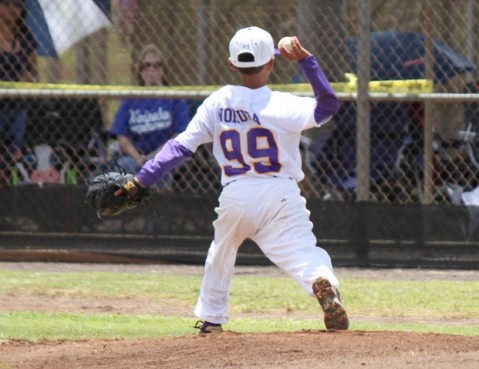 Photo by Barry Villamil | [email protected]
#99 Brayden Nomura pictured in relief of starter Tarynce Antolin in the first inning.

Photo by Barry Villamil | [email protected]
Waipahu pictured scoring their second run in the bottom of the first inning.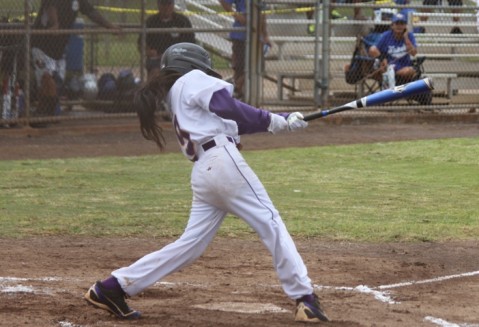 Photo by Barry Villamil | [email protected]
Nohealani Hee pictured hitting an RBI double in the top of the second inning.

@ CORP
Pearl City 2 3 0 1 6 7 19
Waipahu 2 0 0 0 1 0 3
WP – Brayden Nomura
LP – Jayden Borja
Other scores from Saturday (6/11)
Nanakuli 5, Waialua 4 (Waialua is eliminated from tournament)