Waipio defeated defending state champion Pearl City, 11-7 to capture the Hawaii Little League District 7 Championship for 9 &10 year olds at Patsy Mink Central Oahu Regional Park in Waipio on Thursday, June 16, 2011.
The win over Pearl City earned Waipio a berth in next week's state tournament that will be played at Pu'uloa Field in Ewa Beach from Friday, June 24 – Tuesday, June 28.
Shaydon Kubo earned the win for Waipio. Carter Hirano took the loss for Pearl City.
Waipio and Pearl City faced each other three times in the double elimination tournament with Waipio winning two out of three. Pearl City forced Thursday's championship game after defeating Waipio on Wednesday 9-3. Waipio won the first contest 5-2 on Sunday, June 12.
Thursday's championship was filled with high drama and exceptional play from the two ball club's on both offense and defense which has become the standard whenever Pearl City and Waipio face off in tournament play.
"I think the kids are excited, it was a hard fought game," said Waipio Manager, Timo Donahue. "Pearl City is a great opponent, of course. There's always that rivalry between us. They dug deep today after coming off of yesterday's loss and found a way to win."
Pearl City got on board with one run in the top of the first inning off of Waipio starting pitcher, Shaydon Kubo. Carter Hirano scored for Pearl City from third base on a pop up by Caleb Young with two outs.
Waipio came back and tied the game at 1-1 in the bottom of the first inning. Kubo hit a two out triple and later scored on pass ball at the plate.
Waipio picked up three runs in the bottom of the second inning to take a 4-1 lead. Waipio scored two of their runs on a double steal with runners on second and third with two outs. Waipio scored their third run of the inning on a pass ball at the plate that scored Jordan Donahue from third base.
Pearl City posted two runs in the top of the third inning to close the deficit to 4-3. Carter Hirano led off the inning with a single to left field. #4 Mason Foumai pushed a sacrifice bunt to first base that advanced Hirano to second with one out. Hirano took third on a steal with Nohealani Hee at the plate. Kubo walked Hee. Hee advanced on a steal to second. Pearl City had runners on second and third with one out. #20 Christian Pacrem took first base on a walk that loaded the bases. Next batter, Brayden Nomura grounded out to first base scoring Hirano from third. Cole Miyamura hit and RBI single that scored Hee from third base for the second run of the inning.
in the bottom of the third inning, Waipio picked up three runs on one hit. Pearl City made a pitching change with one out in the inning, bringing Cello Casarez in relief of Hirano. Hirano moved to shortstop. Casarez recorded out number two with a strikeout and out three on a groundout. Waipio increased their lead over Pearl City to 7-3.
Waipio pulled away in the bottom of the fourth inning, adding four more runs to take a commanding 11-3 lead. The inning was highlighted by a solo homerun blast from Kubo that sailed over the centerfield fence. Pearl City made a pitching change with no outs bringing in Caleb Young from first base in relief of Casarez. Young struck out the first two batters he faced before giving up singles to Dillon Gabriel and Breyndon Nakamura. Next batter, Aaron Ujimori hit a ground rule double to right field that scored Gabriel from second base. Nakamura and Ujimori scored on a hard hit ball pass Hirano at shortstop for the final two runs in the inning.
In the top of the fifth inning Waipio starting pitcher Kubo was relieved by #55 Micah Kaohu. Nohealani Hee hit a hard liner off of Kaohu that was caught by the center fielder for out number one. Caleb Young grounded out for the second out. Brayden Nomura and Cole Miyamura both got on base with singles. Cello Casarez grounded out to third base for the third out.
Pearl City made a run at Waipio in the top of the sixth inning with a four run rally that fell short but made final score a little closer at 11-7. Tarynce Antolin led off the top of the sixth inning with a single. Chaesten Chon got a base hit to put runners on first and second. Next batter, Carter Hirano walked to load the bases. Waipio made a pitching change sending Micah Kaohu to right field and bringing in Kaysen Kajiwara to the mound in relief. Cheyne Obara hit an infield single scoring Antolin from third base. Nohealani Hee struck out for out number one with bases loaded. Next batter, Caleb Young hit an RBI single to right field that scored Chon from third. Brayden Nomura hit an RBI single that scored Obara from third. Nomura moved to second base on a pass ball. Cole Miyamura walked loading the bases. Waipio made another pitching change with one out bringing in Jordan Gabriel to the mound. Gabriel struck out Cello Casarez for out number two and got Antolin to fly out for the final out of the ball game.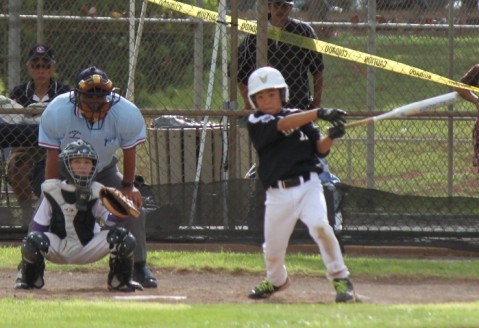 Photo by Barry Villamil | [email protected]
Waipio's #11 Shaydon Kubo pictured blasting a 4th inning solo homerun over the centerfield fence against Pearl City in the 2011 Little League District 7 Championship game.


Photo by Barry Villamil | [email protected]
Congratulations to Waipio !
2011 Hawaii Little League 9-10 District 7 Champions
@ CORP
Pearl City (4-2) 1 0 2 0 0 4 7
Waipio (3-1) 1 3 3 4 0 x 11
WP Kubo
LP Hirano