Five minutes with Zumba Fitness Instructor, Rosy Muzika from Pearl City will change your life. Muzika has built a loyal following of exercise and fitness disciples that have followed her into the community as volunteers to help those in need.
"She's an inspiration to all of us," said Girlie Kamaka who has been taking classes with Muzika at Lehua Elementary School in Pearl City since 2010. "She's not only someone who just teaches class to be active and fit, but she gets us involved with the community."
Muzika teaches her Zumba Fitness class at Lehua Elementary School every Tuesday @7:00pm and on Thursday @ 7:30pm. She also teaches classes for the Keiki at selected Pearl City District Complex schools. You can also find her teaching a class at 24 Hour Fitness in Pearl City.
Muzika has an energy level and personality that is off the chart. Her style as a Zumba instructor makes getting fit contagious for those currently attending her class as well as for those who may be standing around when the music starts. Most of all she makes it fun.
"Zumba is very important because its exercise we like to do," Kamaka said. "It's something fun and we enjoy it. We look forward to it."
As a military dependent living in the Pearl City Peninsula Navy Housing, Muzika has quickly adapted to the Hawaii culture and way of life. Her heart is in helping residents become active and healthy and has dedicated many volunteer hours in supporting local charities with the help of her Zumba Fitness membership who she passionately calls her friends.
I hope you enjoy the following MYPC Q&A featuring Rosy Muzika. I am proud to say that it was an honor to meet her and to learn about her outstanding efforts in our community.
Mahalo to Girlie Kamaka for introducing me to Rosy and for the opportunity to tell her story.
Q: How long have you been a Zumba Fitness Instructor?

A: I've been a Zumba Fitness Instructor since 2009. I started back in Virginia Beach, Virginia. I've been here about a year and a half in Hawaii. I started my classes over here last March of 2010.
Q: Do you see the popularity of Zumba growing as more residents find it a fun way to get fit?
A: It's been growing. Everybody loves it because it's all about having fun and getting fit. It's like freedom. You kind of do whatever. You scream, you shout, you laugh about it. We kind of formed like our super family. We do things together too. We go for walks, we do fundraisers because we love it so much, we want to share it with everybody.
Q: How many people originally signed up for your class at Lehua Elementary and how big is your class today?
A: I started with 5 people and now I'm averaging 94-100 people.
Q: Have you seen your members improve their fitness and overall health as a result of being active in your Zumba class?
A: It has helped a lot of people like lowering their cholesterol because it's very important. I have people that have been taking three or four pills a day and now they're down to one pill a day. They have also lost a lot of weight. Some have lost 25-50 pounds. It's unbelievable to see the transformations of their body while having fun.
Q: Where else do you instruct Zumba classes on Oahu?
A: I'm at 24 Hour Fitness in the mornings. I also volunteer here at Lehua Elementary with the kids. I teach a Zumba class designed for children. I also volunteer at Momilani Elementary School and Nimitz Elementary School. I also do Moments Unforgettable in Kalihi.
Q: You are also very active in supporting communities on Oahu through your fundraising efforts?
A: I just did the Relay for Life which was a great success. I also did the Leukemia Fun Race for the organization. We're getting ready to do the Walk for Hunger Fundraiser on September 25. We also do a fundraiser for Breast Cancer which is usually in October.
Q: Does the Zumba organization support your fundraising efforts?
A: Zumba helps us out a lot especially with fundraisers like Breast Cancer and Heart Disease. If you buy their Zumba wear 30% goes towards the cause. They also help us as instructors. They come up with the design of the tickets and 70% of what we make goes towards the cause. We do a lot of fundraisers with the help of Zumba. We find a place and time and then we send out to Zumba.com the organization to get an approval and then they send us the tickets, the flyers and give us the okay. After the event we send them the money and they're the ones who give it to the organization.
Q: How about your work to help bring music and art to our island Keiki?
A: We also did Angels of Music and Art in August, which is a local Hawaiian organization that helps young ones who are homeless to get art and music classes for free. 100% of money raised went to the organization. All the Zumba instructors got together and all of the sales went to that organization.
Q: Are you involved in any fundraisers that support our Pearl City schools?
A: Right now we're doing a school supply drive for this week. People bring in school supplies and we will donate it to Lehua Elementary School for the children that need help with school supplies.
Q: It must be very gratifying to know that you lead a group of volunteers that are always there for those in need?
A: We try to keep busy and give back to the community as much as they have given us. We take advantage of being able to gather people quickly.
Q: How much do enjoy living in Hawaii and being a resident in the Pearl City Peninsula Navy Housing?
A: I love it. I love Hawaii. It's really, really nice here. The weather, the people, they welcome you with open arms all the time. It's the big Ohana thing. I love it! When we do our fundraisers they all ban together. You can always count on them.
Q: Anybody that you would like to thank for supporting your success here in Hawaii?
A: These ladies behind me. Everybody behind me.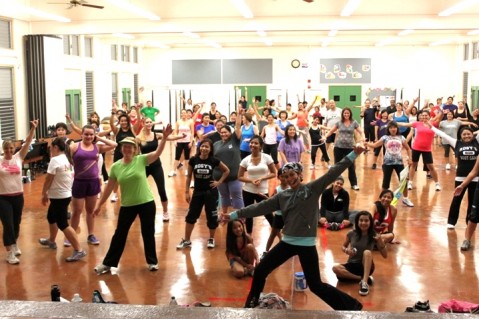 Photo by Barry Villamil | [email protected]
ZUMBA POOL PARTY
AQUA ZUMBA
Momilani Community Center
715 Hoomoana St.
Pearl City
Sunday August 14th
at 4 pm to 7 pm
Let's beat the heat!!
Tickets $10
Door prizes and refreshements are included
For more information contact Rosy Muzika at [email protected] or call (757)842-2919
Check out my routines on you tube just search for "Zumba with Rosy"