Submitted by Joy Mahiko:
The jobs of the 21st century require an education way beyond those acquired through the high school diploma. According to the U.S. Department of Labor, 90 percent of new high-growth, high-wage jobs will require some postsecondary education. Facts emerging from the Census revealed that 19.5 percent of the U.S. population have attended college but have no degree, 7.4 percent have an associate's degree, 17.1 percent have a bachelor's degree, and 9.9 percent have a graduate or professional degree. At the same time, more than seven thousand students become dropouts every day. It has become apparent that these trends need to be reversed.
Ready, Set, Grow – Hawaii, a college and career readiness program, is a state-wide initiative that prepares individuals to accelerate toward a career and/or further their education within the community colleges. The intensive 8-week program addresses math, reading, writing, computer technology, and work readiness skills. Students in the program engage in a student-centered environment supported by passionate instructors with project-based activities that involve problem-solving, critical thinking, and collaborating as a team. Counselors are also provided to create individualized pathways tailored to each student's specific needs and aspirations.
The cost of the program is absolutely FREE. Ready, Set, Grow-Hawaii has created a unique partnership with the University of Hawaii Windward Community College, Leeward Community College, the Department of Labor, and Oahu Work Links. The program received grant funding for 2011-2012 from the Hawaii Community Foundation and the Perkins grant that has made this costly program absolutely FREE to the community.
Ready, Set, Grow – Hawaii is currently being offered at three UHCC campuses such as Windward Community College (WCC), Leeward Community College (LCC), and LCC – Waianae with plans to extend to 7 other campuses by 2014. Open House will be held on August 11, 2011 at Leeward Community College in the student lounge at 6:30pm. Fall session begins August 30th at all locations. The community is encouraged to attend open house and help spread the word. For more information, please visit www.readysetgrowhawaii.comor call 235-7381.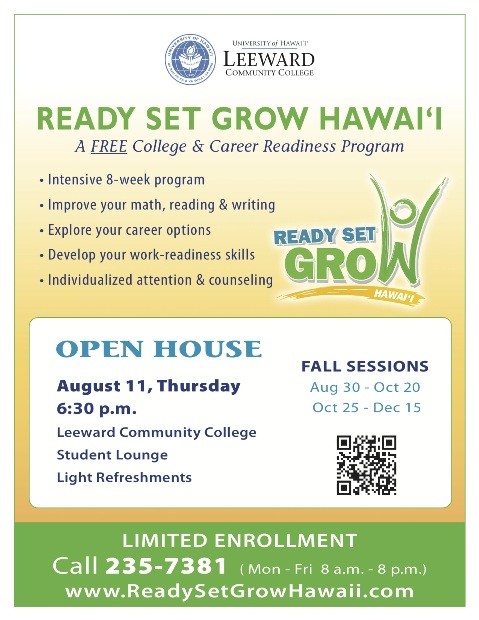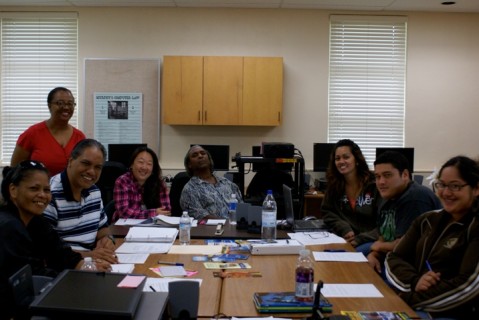 Photo courtesy of Joy Mahiko
Ready, Set, Grow-Hawaii students hard at work.