The Ready, Set, Grow – Hawaii (RSG) program invited the public to attend an open house on Thursday, August 11, 2011 at Leeward Community College.
RSG coordinators, teachers, advisors and staff welcomed potential students and their families to an hour long presentation in the Leeward Community College Student Lounge.
RSG is a college and career readiness program that addresses basic math and reading skills, career explorations, and college readiness.
The Ready, Set, Grow-Hawaii program has a unique partnership with the UH Windward Community College, Leeward Community College, the Department of Labor, and Oahu Work Links. The RSG program is funded by a $500,000 grant for the 2011-2012 school year and is free and available to applicants who are 16 years of age and older.
"What's really neat about this program is that it's free and its tied in to the Community Colleges," said Joy Mahiko, program coordinator. "Anyone who is interested about joining a college and may not be sure if they're ready for it, or have the skills to go into college, this is the program for them. It's also for people in the community who are wanting career changes and maybe are currently in careers that they want to change because of our rapidly changing economy."
Another opportunity being offered to the students is college tuition assistance for those students who complete the program and are planning to enroll in college.
"That's another great thing about the program," commented Mahiko about students receiving additional help for college tuition assistance. "Since it's through the community colleges, we also have partnerships with the actual counselors who are in house at the community college and they will be coming to help the students with financial aid."
This is a great opportunity for those seeking to attend college but need help. Enrollment is limited. For more information about the Ready, Set, Grow Hawaii program call: (808) 455-0477 or log on to: www.RedSetGrowHawaii.com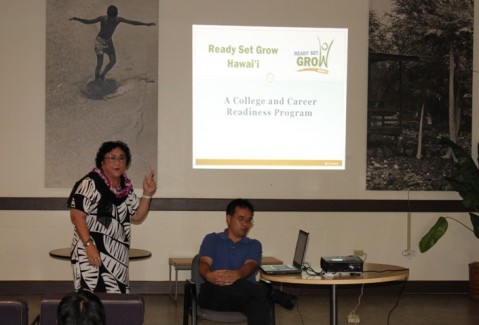 Photo by Barry Villamil | barry@mypearlcity.com
Attendees to the Ready, Set, Grow – Hawaii "Open House" were presented a RSG program power point presentation by RSG organizers.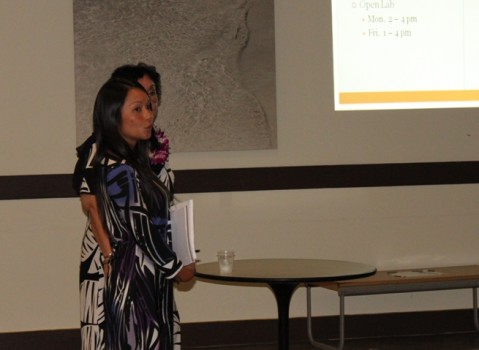 Photo by Barry Villamil | barry@mypearlcity.com
RSG coordinator, Joy Mahiko was available on Thursday during the open house to answer any questions and assist potential students with their application forms.