The Pearl City Lady Chargers improved to 2-0 after sweeping the visiting Kapolei Lady Hurricanes (1-1), 25-10, 25-21 in OIA Western Division Varsity Girls Volleyball action played at the Pearl City High School Gymnasium on Tuesday.
Lady Chargers first year head coach and Pearl City High School class of 1990 alumni, Kory Toyozaki has her girls stepping up and playing as a team early on in the season.
"I'm really proud of them, they played as a team," said Toyozaki. "We changed our line up, which is not our usual line up and they did well. They pulled together."
The Lady Chargers were happy to welcome back senior outside hitter Brandee-Gail Chun to the line up after being sidelined because of an injury. Chun saw limited action during the Lady Chargers victory over Kapolei on Tuesday.
"Brandee is our outside, but she's injured.," Toyozaki said. "We just got her back yesterday practicing so we didn't want use her too much.
The Lady Chargers have experience and seasoned leadership with 7 seniors led by Chun and Tiari-Marie Walker taking to the court for the 2011 season. 5 juniors and 2 sophomores round out the underclassmen on the roster.
Next up for the Lady Chargers is a road trip to Nanakuli High School to take on the Lady Golden Hawks on Thursday, September 1. Blue Division first serve is set for 5:00pm followed by the Junior Varsity and Varsity.
Go Lady Chargers!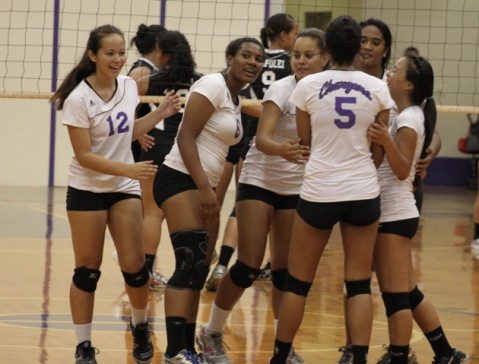 Photo by Barry Villamil | barry@mypearlcity.com
Lady Chargers (from left to right) #12 Courtney Mersberg, #6 Brandee-Gail Chun, #9 Tiari-Marie Walker, #5 Taylor Inong, #13 Peaches Solaita and #2 Kacie Chinen pictured enjoying the moment at home against Kapolei on Tuesday, August 30, 2011.

Other final scores from Tuesday's(8/30) matches against Kapolei:

Blue Varsity – Kapolei 25-19, 20-25, 15-11
Junior Varsity – Kapolei 25-12, 21-25, 15-7