The Mililani Lady Trojans picked up their second win in less than a week on Tuesday against the visiting Pearl City Lady Chargers 5-3 in OIA Red West Division Junior Varsity Softball.
Mililani hurler Kylie Bello out dueled Pearl City's Angel Maikui-Jenks for the win.
The Lady Trojans improve their OIA Red West Division record to 5-1. Pearl City evens their league record at 2-2. Mililani defeated Pearl City 6-4 on Saturday, September 10 at the Lady Chargers Softball Stadium.
On Tuesday, Mililani went out to a 3-0 lead after four complete innings. Pearl City came back in the top of the 6th inning pushing cross 2 runs to move within 1 run at 3-2. The Lady Trojans came back with bases loaded in the bottom of the 6th inning scoring 2 runs to take a 5-3 lead.
The Lady Chargers mounted a rally in the top of the 7th inning scoring on an RBI single by Tiffani Domingsil that drove in Anuhea Rapoza from second base with one out. After giving up a walk, Bello got the next to batters out to end the game. Pearl City left 2 runners on base in the top of the 7th inning.
Pearl City and Mililani get back to work on Saturday, September 17 with the Lady Chargers traveling to Campbell and the Lady Trojans scheduled to host Leilehua. Both match ups are doubleheaders with the first pitch set for 10:00am.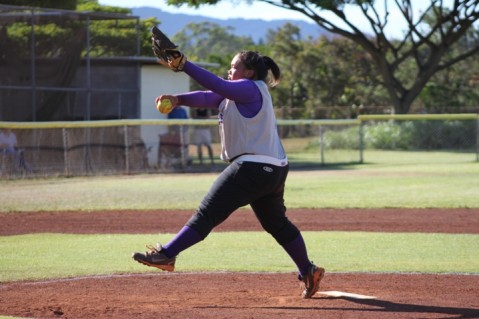 Photo by Barry Villamil | [email protected]
Pearl City's starting pitcher Angel Maikui-Jenks pictured on the mound against Mililani on Tuesday, September 13, 2011 at Mililani High School. Maikui-Jenks went the distance pitching 6 complete innings in the 5-3 loss to Mililani.