Submitted by Eiichi and Robyn Jumawan:
We are very excited about this event because this is going to be in our own BRAND NEW BOXING RING that we just purchased 2 months ago after about 4 years of fundraising efforts and literally emptying our personal pockets! We put on our first event back in 2007 at Momilani C.C. and our boxing ring that was in storage got vandalized so we could not use it anymore. We sold the parts to another club and since then we have been praying and fundraising for another ring.
Last year Dec. 11, 2010 we rented a boxing ring and put on fights and we did very well drawing a good crowd but because of the expense of the ring and logistics of renting a truck, set-up, break-down, and returning the ring on time to keep in good standing, it was very stressful.
Finally this year all the pieces worked together, we got a huge discount from Title Boxing for being loyal customers for over 15 years, and our final fundraiser bringing in enough $$ to afford the ring we purchased it. Now we are trying to make good on our investment and provide opportunities for our boxers and the community by putting on good boxing events!
Our featured boxers from PEARLSIDE are: Maika Samson-Giron 11yr old 2 time State Champion (Hawaii Jr. Olympic & PAL State Champion); 165lb Jesse Jones, 2010 State Middle Wt. Champion, Jeric Antalan 14 years old Junior Hvy Wt. Champion, and Gabriel Kuheana 8yr old 70lb Hawaii PAL State Champion who lives in Palisades! Other boxers on our team are HVY WT. Trey Olive; 60 lb. 11yr old Tristen Cambra; 70lb 11yr old Casey Nita; 170lb 21yr old Richard Ballesteros; 60lb 8yr old Nysir Blackwell, and 122lb 18yr old Nick Castillo!
…Coach Eiichi Jumawan

The cost for tickets will be $12 for adults (17 and up) $7 for kids (8 to 16 yrs old) and free for ages 7 and below….There will be a concession stand offering dinner and snacks.
There will be boxers ranging in age from 8 to 34 years old from Maui, Kauai as well as all around Oahu (Waipahu, Ewa Beach, Honolulu, Kapolei and Waianae).
We invited all clubs registered with USA Boxing and are hoping to get between 15 and 20 bouts.
Pearlside Boxing is a non-profit 501c.3 whose vision is to impact lives, help people and our community through guidance, modeling and programs (fitness,boxing, drug education, after school activities, community service projects and mentoring).
Most of the key volunteers are from Pearlside Boxing Pearl City and Kapolei.
It will be a family event and we are hoping local athletes such as Bryant Moniz and other dignitaries such as even the Governor may stop by to enjoy themselves. We will also have a performance from a Junior and Petite Miss before the event. Local singer and entertainer, Sabrina Ribuca will be singing the National Anthem.
Proceeds from the event help offset expenses as well as contribute to Pearlside's monthly class and annual college scholarship funds.
In 2010, Pearlside awarded over $18,000 in class and college scholarships and we are aiming for $20,000 in 2011.

…Coach Robyn Jumawan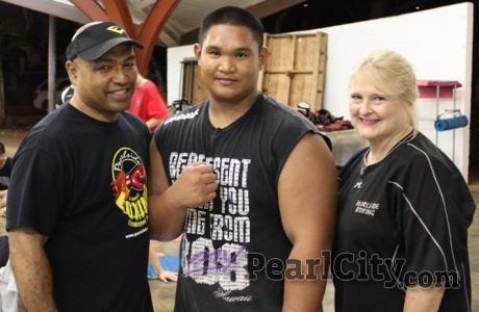 Photo by Barry Villamil | [email protected]
Coach Eiichi Jumawan (left) and Coach Robyn Jumawan (right) pictured with Pearlside Boxing Club fighter Mark Antalan in 2010 during a training session at the Momilani Community Center in Pearl City.