The Pearl City Lady Chargers celebrated Senior Day on Saturday before a packed house at home against the visiting Aiea Lady Na Ali'i. Pearl City fans bid farewell and Aloha to Lady Chargers seniors from both the Blue Varsity and Varsity squads.
In the Blue Varsity contest Pearl City defeated Aiea 2-1. Pearl City dropped the Varsity match to Aiea 1-2.
The Lady Chargers Varsity team currently is currently tied with Waianae at 5-3 in the OIA Red Western Division. Mililani is in first place at 8-0 followed by Campbell at 7-1.
The Lady Chargers hit the road for their final two regular season matches for 2011 with stops at Waipahu on Wednesday, September 28 and at Campbell on Saturday, October 1.
Congratulations to the Lady Chargers Senior Class! You will be truly missed!
Go Lady Chargers!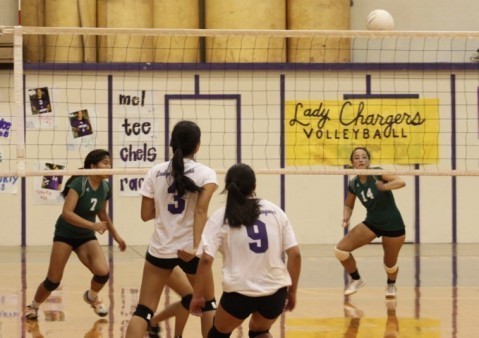 Photo by Barry Villamil | [email protected]
Match point makes its way over the net for the Lady Chargers Blue Varsity win over Aiea.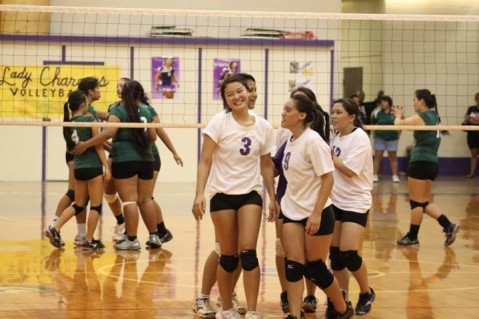 Photo by Barry Villamil | [email protected]
Lady Chargers Blue Varsity Seniors #Rachel Look and #9 Melodie Enos lead their teammates off the court after defeating Aiea in game three 15-4 to win the match.