The Village Park Warriors came away with a 48-28 win over the visiting Pearl City Chargers in a Pop Warner Junior Pee Wee Division match up played at Hoaeae Park on Saturday, October 1, 2011.
The Warriors and Chargers played an inspiring ball game with the Warriors executing a little more firepower on offense for the win over the Chargers.
For their age (8-11 year olds), these young ball players already exhibit excellent football skills as they develop their knowledge for the game and the ability to adjust under pressure.
Both sides showed their abilities on Saturday to get to the ball carrier on defense as well as get into the end zone on offense.
Good coaching is the key to the success in developing young football players especially at the Pop Warner level.
Speaking of good coaching, roaming the sidelines for Pearl City on Saturday was former University of Hawaii Rainbow Warriors standout QB Garrett Gabriel who serves as the Quarterback Coach for the Chargers. Gabriel's son Dillon is currently under his wing as a QB for Chargers.
It was fun being on the sidelines this past Saturday at Hoaeae Park in Village Park. Congratulations to the Warriors and the Chargers for well played ball game.
Mahalo to Terri Kami for welcoming me to the Chargers Junior Pee Wee Ohana!
Go Chargers!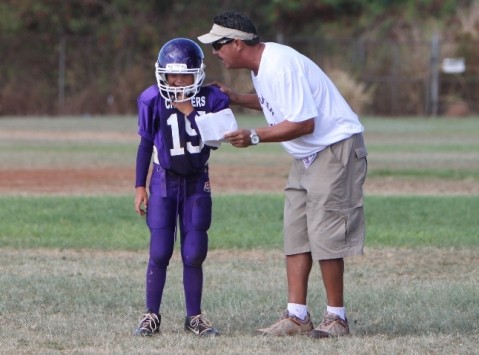 Photo by Barry Villamil | barry@mypearlcity.com
The next generation! Former University of Hawaii Rainbow Warrior QB, Garrett Gabriel pictured giving instruction to his son, Chargers QB Dillon Gabriel during their game against Village Park on Saturday, October 1, 2011.