Bob Woods made a difference is so many lives while on earth. His recent passing has left many souls that he touched broken hearted, but at the same time honored to have had the opportunity to receive the gift of caring and hope that Bob delivered on a daily basis.
Bob was called to the Lord on Monday, September 26, 2011. He was recently diagnosed with leukemia and was undergoing treatment at the time of his passing.
On Monday, October 3, Bob was layed to rest at the Veteran's Cemetery in Kaneohe with a full Navy honor guard at his funeral service. Bob retired at the rank of Master Chief in the United States Navy.
As the Executive Director of the non profit organization, Touch A Heart Inc., Bob worked endlessly on reaching further into our community to help those in need.
Touch A Heart Inc. has the following mission statement posted on their website at: wwwtouchaheartinc.com.
Touch A Heart Inc. partners with private, government and faith-based organizations to provide the homeless and other needy in our community with a safe and secure gathering place filled with love, compassion and dignity. Through a structured program and participative process, Touch A Heart assists them in their physical, emotional, economic and social transitions toward a better life and more rewarding and meaningful station in society…

Bob worked closely in our Pearl City community with his friend Honolulu City Councilman Breene Harimoto who represents Pearl City. Bob was Councilman Harimoto's campaign treasurer during his successful run for the council in 2010 and also worked with Harimoto as a development and strategic planning consultant for the Pearl City Foundation.
The two were as close as friends can be and shared their faith as they worked side by side to better the lives of those in our Pearl City community as well as other communities on Oahu.
"Bob was a wonderful person who had a passion for helping people," said Harimoto. "We became close friends over the years and talked often. He was a man of God and his deep-rooted faith was an inspiration to me. I will miss him so much but I celebrate his life and rejoice in knowing that he is now in a better place. I have been blessed to have had Bob as my friend."

The passion for helping people was Bob's gift. He was humble and determined to fulfill his mission to partner and unite with other community organizations while recruiting volunteers to assist and expand outreach programs that directly benefitted our communities needy.
"Touch A Heart was dad's greatest joy towards the end," said Bob's son Chae.

We will all miss Bob's presence in our Pearl City community but his legacy and spirit lives on forever in those that he helped and in those that will help others because of the example of how one very special soul can Touch A Heart.
To learn more about Bob and his work with Touch A Heart in our community log on to the link below.
http://www.mypearlcity.com/story/community/blaisdell-park-angels-touching-hearts-feeding-souls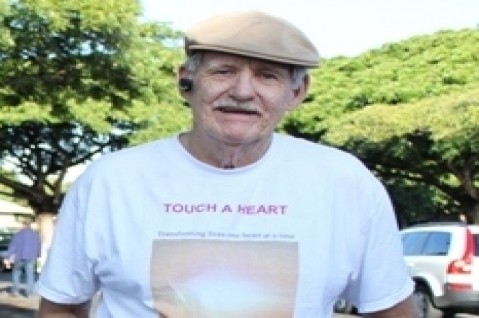 Photo by Barry Villamil | barry@mypearlcity.com
God Bless you Bob!