The Pearl City Chargers added a couple individual titles and a team title during the Oahu Interscholastic Association 2011 Western Divisional Cross Country Championships held on Saturday, October 8 at Waialua High School.
Pearl City sophomore Maile Shigemasa won the title in the varsity girls division and sophomore Paul Enriquez brought home first place in the junior varsity boys division.
The junior varsity boys captured the team title finishing all five runners in the top six spots.
Freshman Kaile Eli ran a strong race finishing in second place in the junior varsity girls race. Eli was the lone entry for the Chargers in the junior varsity girls division.
PEARL CITY CHARGERS RACE RESULTS:
(3 MILE COURSE)
JUNIOR VARSITY GIRLS

Kaile Eli Freshman 2nd place 21:54.80
JUNIOR VARSITY BOYS

Paul Enriquez Sophomore 1st place 17:11.32
Chase Arguelles Freshman 2nd place 18:23.86
Matthew Iwane Freshman 4th place 18:28.22
Nicholas Au Freshman 5th place 18:37.84
Devin Ajimine Freshman 6th place 18:44.23
VARSITY GIRLS

Maile Shigemasa Sophomore 1st place 19:48.02
Jaymie Lonzanida Senior 16th place 23:07.97
Jacqueline Chong Senior 17th place 23:10.46
Adrienne Jean Sylva Senior 18th place 23:18.07
Renee Lum Junior 19th place 23:20.96
VARSITY BOYS

Richard Bergstrom Senior 5th place 17:06.38
Zachary Villarmia Junior 8th place 17:20.88
Reece Teramoto Junior 13th place 17:49.64
Dylan Miyamoto Junior 25th place 20:13.39
Ryan Nakasone Senior 31st place 21:06.99
Sean Fukunaga Junior 37th place 23:00.38
TEAM STANDINGS
JUNIOR VARSITY GIRLS ———–

JUNIOR VARSITY BOYS 1st place

VARSITY GIRLS 2nd place

VARSITY BOYS 3rd place

The Chargers Junior Varsity will compete in the OIA Championships on Saturday, October 15 at Waialua High School at 3:00pm
The Chargers Varsity teams will compete in the OIA Championships on Saturday, October 22 with site and time TBA.
Congratulations to the Chargers Cross Country teams for a great performance at the OIA Western Divisional Championships and good luck at the OIA Championships!
Go Chargers!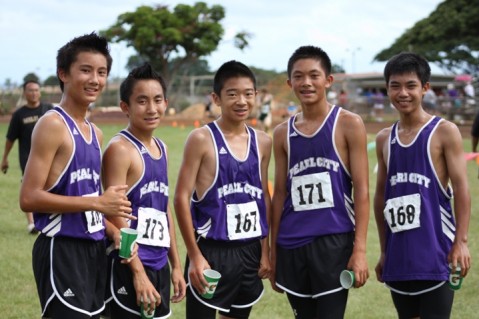 Photo by Barry Villamil | [email protected]
Sophomore Paul Enriquez (second from right) led his team to a junior varsity boys first place team title. Enriquez also captured the junior varsity boys individual title in a time of 17:11.32. The junior varsity boys placed individually within the top six spots.
(Pictured from left to right) Nicholas Au, Matthew Iwane, Devin Ajimine, Paul Enriquez and Chase Arguelles.