Pearl City's Anuhea Lindsey-Rapoza put the Lady Chargers in the Oahu Interscholastic Association Red Division Junior Varsity Softball Championship game after tossing a 1-0 shutout over Castle in the semifinals on Thursday at the Lady Knights home field.
Pearl City (West #2 seed) will play Mililani (West #1 seed) on Saturday, October 15 for the championship at Mililani High School. Mililani reached the championship game after defeating Moanalua (East #2 seed) in a close ball game 6-5.
On Thursday against East #1 seed Castle, not only did Lindsey-Rapoza lead her Lady Chargers with a stellar performance on the mound, she also scored the winning run on a RBI single by Makana Kekaulike in the top of the first inning.
In the top of the first inning, Lindsey-Rapoza reached first base on a walk. Next batter, Ariela Bali popped out for the first out. Lindsey-Rapoza took second base on a steal and advanced to third base on a pass ball at the plate. Robi Kami struck out for the second out of the inning. Makana Kekaulike lined an RBI single pass the Castle shortstop into to left field scoring Lindsey-Rapoza from third base. The Lady Chargers would go on to load the bases but failed to push any additional runs across in the inning.
Both starting pitchers held each other scoreless the rest of the ball game.
First pitch for Saturday's OIA championship is set for 3:00pm. In two previous games played during the regular season, the Lady Trojans swept the Lady Chargers 8-6, 5-3.
Go Lady Chargers!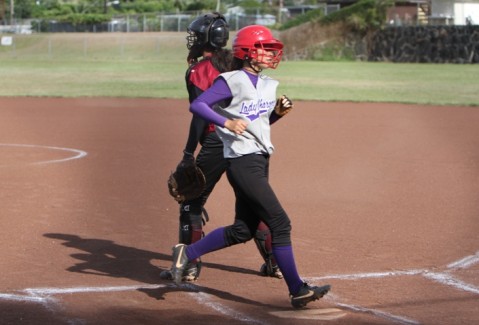 Photo by Barry Villamil | barry@mypearlcity.com
Anuhea Lindsey-Rapoza steps on home plate scoring the games only run on an RBI single by Makana Kekaulike in the top of the first inning against Castle.