Last night was historic and one for the record books for the Pearl City Chargers varsity and junior varsity football programs as both teams captured regular season Oahu Interscholastic Association White Division Championships with perfect records after defeating the visiting Kaimuki Bulldogs at Edwin 'Bino" Neves Stadium.
The Chargers junior varsity squad blew out the Bulldogs 47-0 to cap an undefeated regular season finishing at 6-0.
In the varsity matchup, the Chargers and Bulldogs battled to the final ticks on the game clock with Pearl City coming out on top 29-27 to complete the regular season with a perfect 8-0 record.
Both the varsity and junior varsity Chargers will be seeded #1 in next week's OIA Championship playoffs.
The Chargers turned things around from last season when they lost 14-13 to the Bulldogs in the OIA White Division playoffs and missed an opportunity to secure a birth in the HHSAA Division 2 Championships.
On Saturday, the Chargers had their offense clicking, when they needed it, behind QB Kaimi Paredes who completed 16 of 22 for 172 yards and 2 touchdowns. Chargers running back Rakeel McMillian added two scores on a 14 yard touchdown pass from Paredes and on a 28 yard touchdown run. Daicorri Briscoe caught one touchdown pass and also scored on a 90 yard kick off return.
"It was a great win tonight," said Chargers Head Coach Kai Kamaka. "We actually had a really great week of offense this week and we showed some guts at the end. We made a couple mental mistakes down the line that we have to fix because that's going to hurt us especially in the playoffs."
The Bulldogs put together a solid offensive attack through the air and on the ground led by QB Nahoa Spencer who completed 12 of 22 for 112 yards and one touchdown and Brandon Kekoa who rushed for 158 yards on 29 carries and three touchdowns.
Kaimuki took it to Pearl City head on grinding it out and playing true to their Bulldog nickname..
"We prepared to be in a dog fight," Kamaka said. "We told our guys that the Bulldogs are a great team but we gotta keep playing and keep fighting and just be patient. Just stay in their face on every play."
Kaimuki got on the scoreboard on their first possession scoring on a 4 yard touchdown by #22 Brandon Kekoa at 7:41 in the first quarter. Extra point kick by Keoki Kaiahua was good. Kaimuki took a a 7-0 lead.
Pearl City's Daicorri Briscoe returned the ensuing kick off 90 yards for a Charger touchdown. David Laranol converted the extra point kick. Game tied at 7-7.
Kaimuki scored with 9:54 in the second quarter on a 5 yard run by Brandon Kekoa. Extra point attempt sailed wide left. The Bulldogs took a 13-7 lead over the Chargers.
Pearl City put together a drive with 9:00 on the clock in the second quarter after completing a 25 yard pass from Paredes to #88 Keanu Harris and another pass completion to #9 David Laranol aided by two penalties that brought tball down to the 5 yard line. Daicorri Briscoe took over from there, scoring on a 5 yard touchdown from Paredes with 8:02 remaining in the second quarter. David Laranol added the extra point kick to put the Chargers in front 14-13.
Pearl City tacked on 3 more points on a David Laranol 35 yard field goal with 57.5 seconds on the clock in the second quarter. Pearl City increased their lead over Kaimuki to 17-13.
The Chargers got the ball back with 8.9 seconds in the second quarter on an interception by #20 Jordan Mendiola. Pearl City went into the half leading 17-13.
Kaimuki regained the lead at 2:42 of the fourth quarter on a 2 yard touchdown run by Brandon Kekoa. Extra point attempt by Kaiahua was good. Kaimuki went out in front of Pearl City 20-17.
The Chargers came back with 1:19 remaining in the third quarter a after a Pearl City punt bounced off a Kaimuki punt returner that was recovered by Shawnson Batungbacal at the Kaimuki 15 yard line. QB Kaimi Paredes connected with Rakeel McMillian on the next play for a 15 yard touchdown reception. The extra point attempt failed. The Chargers take the lead at 23-20.
The Chargers struck again with 7:16 on the clock in the fourth quarter on a 28 yard touchdown run by McMillian. The David Laranol extra point attempt failed. Pearl City increased their lead to 29-20.
Kaimuki scored late in the fourth quarter with 1:05 on the clock on a 6 yard touchdown pass from Spencer to #16 Nick Mile. Kaiahua extra point kick was good. Kaimuki pulled within two points at 29-27.
Kaimuki attempted an on side kick but jumped off sides. On their second attempt the ball was recovered by Kaimuki.Pearl City was called for a personal foul on the play. Kaimuki took possesion on the 40 yard line with 1:00 on the clock. Kaimuki found themselves facing a fourth down and six. QB Nahoa Spencer hit Bulldog running back Siaosi Hala'api'api on short out but was driven out of bounds by Tanner Tokunaga and Jordan Mendiola. The Chargers took possession and ran out the clock for the 29-27 victory.
The #1 seed Chargers will face #4 seed McKinley in next weeks OIA White Playoffs. Pearl City defeated McKinley 31-20 in week three of the regular season. #2 seed Kaimuki will face #3 seed Waipahu. Time and location TBA.
"It gets a lot harder now," Kamaka said about entering the OIA playoffs as the #1 seed. "We watched McKinley last night and they got a lot better than we saw them in week three. We got are hands full but we'll get out tomorrow and get things going."
Go Chargers!
@ Pearl City High School
Kaimuki (7-1) 7 6 7 7 – 27
Pearl City (8-0) 7 10 6 6 – 29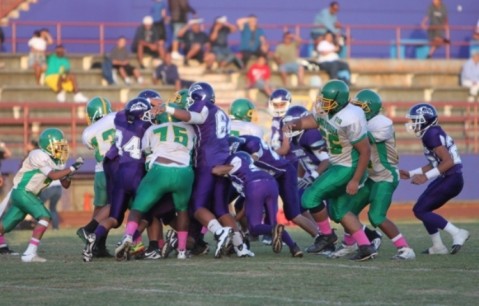 Photo by Barry Villamil | barry@mypearlcity.com
Congratulations to the Pearl City Chargers junior varsity foootball team for an undefeated, 6-0 regular season OIA White Division Championship. The Chargers pictured during their 47-0 victory over Kaimuki on Saturday, October 15, 2011.