Submitted by: Sandy Oshiro, PCHS Project Grad Chair 2012:
What is PG?
PROJECT GRADUATION is a once-in-a-lifetime celebration, because it is the students "last" time together as a senior class. It is actually their first reunion, and more importantly, it is a SAFE WAY for them to celebrate their biggest accomplishment in their young lives. This special event is FREE of tobacco, drugs, and alcohol.
Why have PG?
To help prevent teenage, or any, deaths caused by drinking and driving on graduation night. We want ALL of our 2012 graduates to have a SAFE and MEMORABLE graduation night!
http://www.youtube.com/watch?v=5qOKLuRSgLU&feature=youtu.be
At Pearl City High School, PG is a joint effort among all grade levels. Parents and students of seniors, as well as underclassmen, are encouraged to get involved. We need volunteers for our fundraising events to help raise $$$ for this special night. Support is also done through monetary and item donations.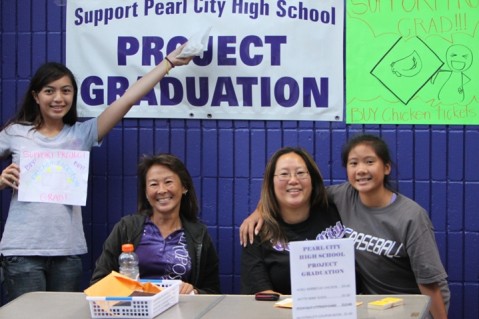 Photo by Barry Villamil | barry@mypearlcity.com
Sandy Oshiro, PCHS Project Grad Chair 2012 (second from left) leads the Project Grad team during their plate lunch fundraiser held at the Pearl City vs. Kaimuki football game on Saturday, October 15, 2011 at Pearl City High School.


Photo by Barry Villamil | barry@mypearlcity.com
2010 PCHS Project Graduation Treasurer, Cyndy Knudson (left) and Co-chair, Diana Woo (center) pictured receiving a $1000 Pearl City Shopping Center Merchants Association check donation from MyPearlCity.com Community Liaison, Barry Villamil on Thursday, January 7, 2010.
Cost?
Early registration $200 – postmarked by Dec. 15, 2011
Regular registration $225 – postmarked by Mar. 8, 2012
Late registration $275 – postmarked by April 13, 2012
ABSOLUTE deadline $325 – due at mandatory parent night – April 19, 2012
***form must be completed and signed, checks made payable to: PCHS PTSA Project Grad.
Forms can be picked up at the front office or senior class advisor, Mrs. Daphne (Kajikawa) Okunaga's room.
Got Fundraising?
McDonald's Coupon books – $5.00
Ward Center Festival of Giving – students will be selling tickets until Oct. 28 – $10.00
PCHS Craft Fair Barbecue Chicken – $9.00
PCHS Craft Fair Maki Sushi – $5.00
**We are in need of volunteers to help at the Craft Fair with the cooking/distributing of chicken.
Pizza Hut nite – 11/8, 12/13
McNite at Pearl City McDonalds – 11/9, 2/15
Volunteers needed to help Centerplate concession at Aloha Stadium – All UH home games, Hawaii Bowl, Pro Bowl – volunteers needed to work concessions on 10/22, 11/5, 11/19, 11/26, 12/3, 12/24, 1/29
Planning Committee Meetings
We have monthly planning committee meetings every first Thursday of the month. Meetings start at 7:00 pm in room B205 at PCHS. Everyone is welcome to attend.
Community Support
Financial support from the community is welcome and appreciated each year. Each donation to PG allows more students the opportunity to participate in Project Graduation Night.
If you have any questions, would like to make a donation, or volunteer and support our fundraising, please contact Sandy Oshiro 352-6947 or email pchsprojectgrad@gmail.com
Remember, IT'S ALL ABOUT THE KIDS!!!
Mahalo,
Sandy Oshiro
PCHS Project Grad Chair 2012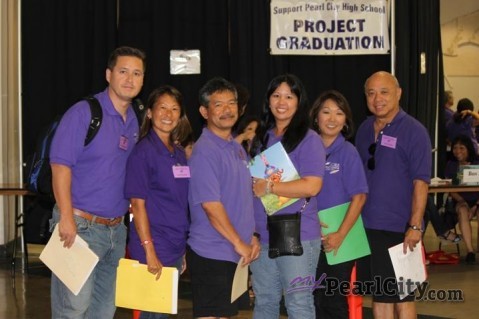 2011 PCHS Project Grad planning committee members pictured at the Blaisdell Exhibition Hall as they prepare to set off on Project Grad Night with the graduating seniors.