Pearl City High School Vice Principal, Aaron Tominaga leads a group of PCHS staff, students and alumni in the planning of the school's 40th Anniversary Celebration and construction of a brand new memorabilia display case.
The PCHS planning committee held their second meeting on October 12 at the PCHS office conference room. The meeting agenda included the following topics of discussion:
PCHS Memorabilia Display Case

1. Display Case Sketch/Design
2. What will go in display case/logistics
3. Funding
4. Construction timeline
The PCHS Display Case is being designed and constructed by PCHS students from Mr. Les Aranaydo's class. Volunteers will also assist and participate in the construction process.
When completed, the display case will sit proudly in the PCHS Administration Building courtyard showcasing 40 years of PCHS history.
The PCHS planning committee is also seeking professional help for the masonry (foundation/footing) and electrical (lighting) display case construction.
If you are a licensed mason or electrician and would like to volunteer your time to help out with the project, please contact PCHS VP, Aaron Tominaga at: Tel: (808) 454-5514 or via e-mail: [email protected].
PCHS 40th Celebration
1. Date, location, time etc.
2. Funding
Volunteer/Help

1. Plan for various events
2. Creation of sub-committees
PCHS students have recently formed a 40th Anniversary planning committee which is supported by the PCHS alumni planning committee and community volunteers and supporters.
If you are a PCHS alumni and would like to get involved or would like to make a donation to the projects above, please contact Mr. Aaron Tominaga at: Tel: (808) 454-5514 or via e-mail: [email protected].
The next PCHS alumni planning committee meeting will be held on Tuesday, November 8, 6:00 – 7:15pm in the PCHS office conference room.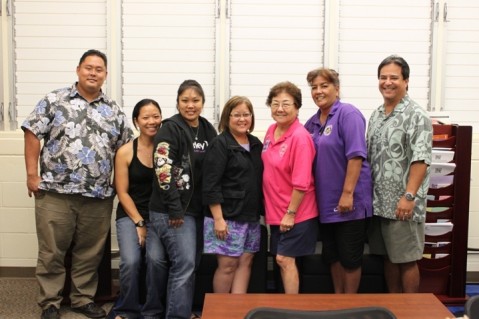 Photo by Barry Villamil | [email protected]
PCHS Alumni Planning Committee members who attended the October 12, 2011 meeting (from left to right) PCHS VP Aaron Tominaga '91, Daphne Okunaga '97, PCHS Counselor, Liane Sataraka '90, Patti Rabacal '76, PCHS Student Activities Coordinator, Mike Ishihara, Leona Alaka'i '77 and Philip Kahue '78.

Other PCHS Alumni planning committee members not pictured include: PCHS Athletics Director, Reid Shigemasa '88, PCHS Assistant Athletics Director, Kyle Miyashiro '90, Traci Miwa '01, Ava Limoz '00 and Barry Villamil '77.
Go Chargers!