Renovations to the Pearl City 76 station located at the Pearl City Shopping Center have been completed and now its time to celebrate with lower gas prices and ethanol-free gas.
On Saturday, November 19th, KSSK Radio will be at the Pearl City 76 location from 12pm-2pm with lower gas prices being offered to all customers. Tune into KSSK early Saturday morning, November 19th, or log onto facebook.com/76hawaii and twitter.com/76hawaii for actual discounted gas prices.
KSSK will also be on hand giving customers chances to win FREE gas, t-shirts and other prizes. Winners must be on premise for their chance to win.
Also offered to customers on Saturday, November 19th is the opportunity to receive free 76 antenna balls and free membership into the Kama'aina Rewards program where members are awarded for purchasing gas, food items, beverages, auto repair and more. For more information log on to: KamaainaRewards.com.
Ethanol-Free Gas
Ethanol-free gas is now available to customers at the Pearl City 76 station. In a press release issued by Mid Pac Petroleum, the ethanol-free gas will benefit boaters and other customers who use marine and small motor applications.
"We wanted to offer the public a unique product for their marine and small engine applications, said Bob Kern, Mid Pac Petroleum, Director of Operations.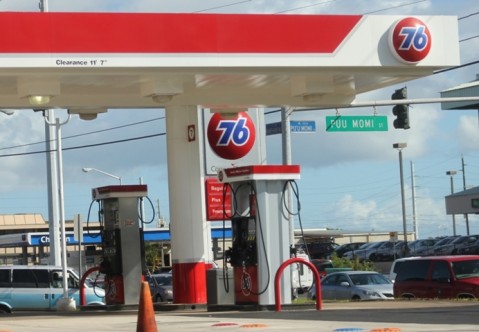 Photo by Barry Villamil | barry@mypearlcity.com
Photo of the Pearl City 76 gas station located at the Pearl City Shopping Center.