Hawaiian Telcom returns to the Pearl City Shopping Center on Tuesday, November 15 from 5:00pm – 8:00pm to introduce and demonstrate their new television services to Pearl City customers.
Customer service representatives from Hawaiian Telcom will be on the Pearl City Shopping Center property near Foodland Super Market to assist customers interested in signing up for their new television services that features 100% digital service to all customers.
Another exciting feature that customers will be delighted to learn about and hopefully sign up for is the new "Whole Home Service". If you purchase premium services like HBO, HD or DVR, you get it on all your televisions in your house. Whole Home Service allows you to pause in one room and then resume what you were watching in another room.
After a very successful introduction of their new television services back in September at the Pearl City Shopping Center, the company decided to hold Tuesday's scheduled event in order to reach deeper into their Pearl City customer base.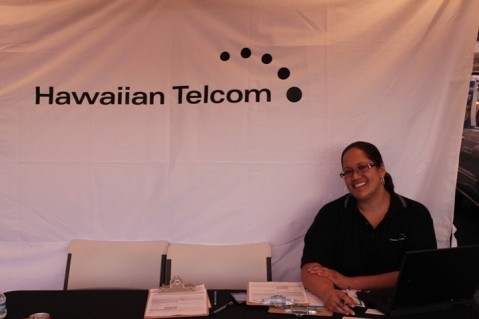 Photo by Barry Villamil |[email protected]
Hawaiian Telcom representative pictured ready to sign up customers at the Pearl City Shopping Center in September, 2011.