The public is invited to the Annual PEARL CITY HIGH SCHOOL CRAFT FAIR this Sunday, November 20, from 9am – 2pm in the Pearl City High School Cafeteria.
Get a great start to your Holiday shopping, enjoy delicious food booths and a terrific time for family fun!
Shop for hand crafted products from over a hundred vendors. There will also be orchids, plants, and again, ono food!
New this year is the Children's Fair with games and activities for the keiki.
A $1.00 donation gives you a chance to win many great prizes at our Benefit Drawing. Come and support the Pearl City schools and organizations participating in the fair.
The Craft Fair is a benefit for the Pearl City High School Special Education Department.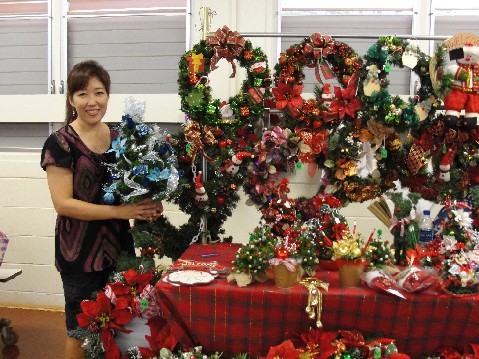 Photo by Barry Villamil | [email protected]
Chris Nakanishi, PCHS '84 pictured at the 2009 Pearl City High School Craft Fair with her beautiful handcrafted Christmas gifts.